The first round hasn't been made best-of-5 yet, so it played pretty much according to script. In the East, that is. The Warriors have dilly-dallied, and the Nuggets have had trouble closing out the Spurs.
With some help from my co-host RJ Garcia, we already broke down round 1. Now, things get a lot more interesting. The big 4 in the East finally clash, after months of well-deserved anticipation. How do we see things shaking out?
4. Boston Celtics (49-33, 48.3 TSP) at 1. Milwaukee Bucks (60-22, 61.5 TSP)
Season Series: Bucks 2 – Celtics 1
The Bucks got the better of just about everyone this season, and the Celtics had a rather disappointing regular season, so this makes a lot of sense. The question is whether these results were truly matchup-based, and if three games are enough of a sample to use as a real predictor.
Best Player: Giannis Antetokounmpo (27.7 points/12.5 rebounds/5.9 assists, 2nd in WAR)
Kyrie has had an amazing season (and remains a dominant scorer in the playoffs), but Giannis has been on another level. He's the best offensive and defensive player on the team that had the best record in the NBA this season, and is coming off an incredible series against Detroit for his first career playoff series win:
He also accomplished the feat in just 32 minutes, the only player listed to have done it in less than 41. That's not only impressive, but bodes well for a fresh body in round 2 given how much of a cakewalk the Pistons were.
Not many teams have an answer for Giannis, but the Celtics definitely aren't one of them. Jaylen Brown is a solid defender, and Al Horford may spend some time on Giannis, but he's bigger and quicker than both of them. The Celtics' best hope is likely to give him many different looks (which is possible considering their wealth of solid wings) and keep him out of transition (Boston ranked 7th in opponent points per possession in transition this season to go along with 1st in transition frequency allowed, per Cleaning the Glass). They won't stop him, especially with how well Mike Budenholzer consistently surrounds him with shooters, but they need to slow him considerably to have a chance in this series.
Key Matchup: Al Horford (13.6 points/6.7 rebounds/4.2 assists, 45th in WAR) vs. Brook Lopez (12.5/4.9/1.2, 49th)
Brook Lopez has been a revelation for the Bucks this season. Discarded by the Lakers in the offseason, Lopez has been perhaps the biggest non-coaching reason for Giannis and the Bucks' ascension this season: offensively, his shooting (36.5% from 3, with a whopping 61% of his shots coming from deep) has opened things up for Giannis like they'd never been in his John Henson- and Miles Plumlee-plagued career; defensively, he has been the anchor of the Bucks' funnel-everything-to-the-rim defense (95th percentile in block percentage and 3rd leaguewide in defensive FG% allowed at the rim). The Bucks defensively allowed the fewest shots at the rim this season of any team in the NBA, and also had the lowest field goal percentage allowed there, per Cleaning the Glass.
Horford, though, is a tough matchup for him. His quickness on the perimeter defensively has a chance to neutralize Lopez' shooting, and his respective 3-point touch on the other end could make it difficult for Lopez to stay in the paint. I mentioned the Bucks allowing the fewest shots at the rim – they also allowed the most threes (and most non-corner threes) in the NBA. Horford has no problem letting it fly from out there:
Al Horford has not only taken a lot of above-the-break threes, but he's hit a bunch of them too.
If Horford can be a serious threat from outside, it would have a major impact on this series. Lopez doesn't want to (and isn't coached to) deal with him out there:
Al shot 31% from three on 4 attempts per game in round 1 against the Pistons. Those numbers getting up are potentially the biggest x-factor for the Celtics in this series (other than slowing Giannis). If he can't get it going, there may be a whole lot of this:
But Keep Your Eye On: Eric Bledsoe (15.9 points/4.6 rebounds/5.5 assists, 22nd in WAR) vs. Kyrie Irving (23.8/5.0/6.9, 12th)
Last year when these two teams met in the playoffs, much was made about how Terry Rozier dominated Eric Bledsoe in multiple aspects of the game. A lot's changed in a year, though – Bledsoe has had a borderline All-Star level season (8th among point guards in RPM), earning a big contract extension, while Rozier has mostly fizzled in his contract year (a whopping 42nd among point guards in RPM).
The biggest change, though, is the return of Kyrie Irving, whose shot-making ability can keep the C's in any series. Without Malcolm Brogdon for at least the first couple of games, Milwaukee will rely on Eric Bledsoe, who had an excellent defensive season, to keep Irving in check.
Bledsoe does a great job when he's locked in on an isolation, which is definitely Irving's forte. He needs to make sure, though, to keep engaged on screen plays:
Irving is the only real shot creator on this Celtics roster. If Bledsoe comes into this series with a chip on his shoulder, it will be huge for Milwaukee's already-good chances.
Best Coach: Brad Stevens
Mike Budenholzer is probably the coach of the year, but Stevens has the better playoff pedigree, and I might just trust him more to make adjustments over the course of a series. This is splitting hairs, and both leaders are going to be big assets to their teams in terms of tactical adjustments against Giannis and Kyrie as the series goes on.
RJ's Spicy Take™: "Bucks in 7. If this series never sees Marcus Smart enter then it could very easily be Bucks in 4 or 5. Last year's Bucks v Celtics playoff series featured heavy minutes from Jabari Parker, Thon Maker, and John Henson. Those three have been replaced by Nikola Mirotic, George Hill, and Brook Lopez. While Giannis has been better and their other role players have been better, this swap of talent has gone underreported on when comparing to the Celtics seven game series win from a year before."
100% Guaranteed Result: The Celtics need Al Horford, Jayson Tatum, and Gordon Hayward to all play better than they have all season to have a real shot in this series. Marcus Smart's absence could be more impactful then it was against the Pacers, as the Bucks will likely hunt Kyrie Irving defensively with the likes of Eric Bledsoe and Khris Middleton in the halfcourt. Though Boston matches up relatively well against the Bucks, the talent disparity we've seen all season long, alongside home court advantage, will be too much to overcome.
Bucks in 7
3. Philadelphia 76ers (51-31, 48.8 TSP) at 2. Toronto Raptors (58-24, 54.9 TSP)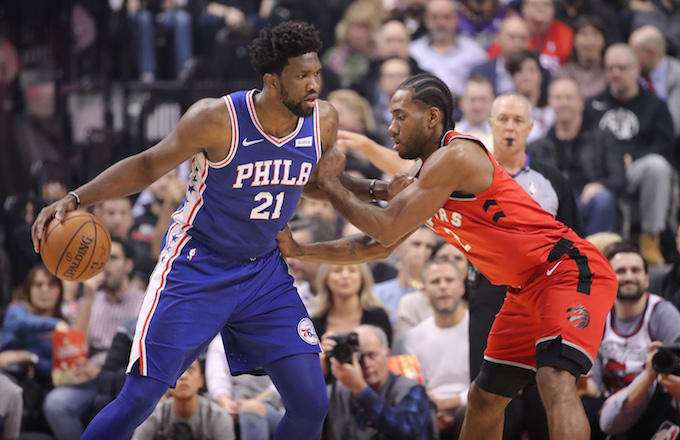 Season Series: Toronto 3 – Philadelphia 1
The Raptors handled the Sixers in the regular season, but this isn't worth reading into too much considering the extent to which the Sixers' lineups have changed as the year has gone on. However, Philadelphia's only win came without Kawhi Leonard on the court. Speaking of…
Best Player: Kawhi Leonard (26.6 points/7.3 rebounds/3.3 assists, 18th in WAR)
Joel Embiid's lingering health concerns make this a no-brainer, as Kawhi has continued his playoff domination on both sides of the ball through round 1. With perhaps the Sixers' biggest strength being their size on the perimeter in Ben Simmons, Jimmy Butler, and Tobias Harris, Kawhi might be the first player on any NBA team the Raptors could ever want in this matchup, and they have him. He's also 13-0 in his career against the Sixers.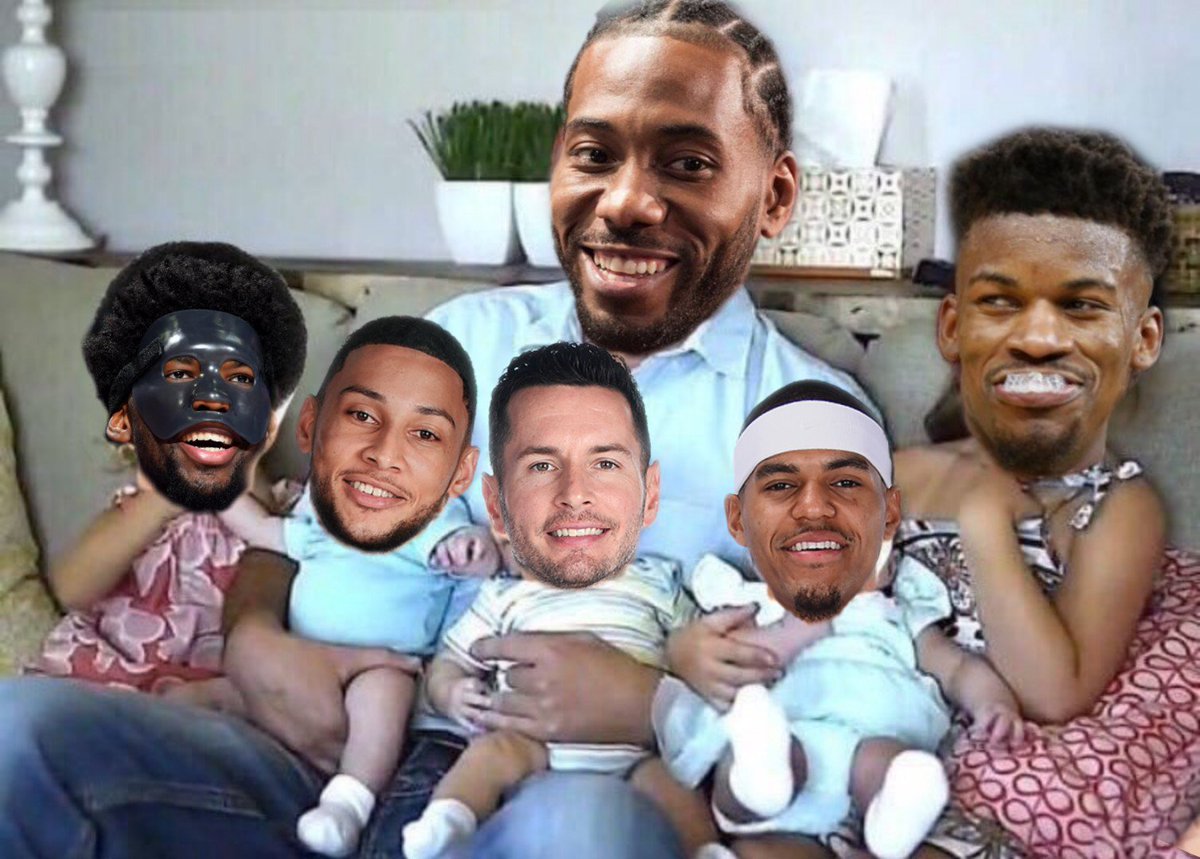 This picture isn't real, but I like it.
I'm also reposting this tweet from my round 1 breakdown, just because of how eye-opening it is:
Kawhi can eat Ben Simmons alive if that's what Nick Nurse and the Raps decide is best, or he can lock down Jimmy Butler's isos in the 4th quarter. It's likely he'll be tasked with both and more, while also acting as Toronto's primary shot creator. There were no issues with his shot in round 1: he put up 27.8 points a game across the 5-game series on 56% field goals and an incredible 54% from three (on over 5 per game). Finding a way to deal with Kawhi on both ends is easily the most important task for Philadelphia in this series.
Key Matchup: Joel Embiid (27.5 points/13.6 rebounds/3.7 assists, 26th in WAR) vs. Marc Gasol (13.6/7.9/4.4, 50th)
There's no way to know exactly what Raptors GM Masai Ujiri is thinking, but I'd like to posit that when he acquired Marc Gasol at this season's trade deadline, it was with exactly this matchup in mind. Joel Embiid is the Sixers' most destructive force on both sides of the ball, and though Gasol is nowhere near the player Embiid is on the whole, he matches up with him eerily well. Embiid ranked 5th in the NBA this season in post-up frequency; Gasol was 4th in post points per possession allowed. Embiid likes to lock down the paint and defend the rim on the other end (BBall Index grades him an A in interior defense but an F in perimeter defense); Gasol hit over 36% of his threes this season and is very smart with the ball (4.4/2.0 assist to turnover ratio this year).
Here's how Joel Embiid fared in his two games against the then-Gasol-led Memphis Grizzlies this season:
14 points (4/15 FG, 0-6 3PT), 6 turnovers, 5 fouls
15 points (4/13 FG, 0-2 3PT), 4 turnovers, 3 fouls
A proportional t-test tells us that though this sample seems small, his shooting percentage in these games shows a statistically significant difference from his season average of .484, indicating Gasol may have had a real effect on him:
Gasol is not only strong, but incredibly smart. The former Defensive Player of the Year knows Embiid's tendencies, and can goad him into shots like this:
Or this:
Considering Embiid already has injury concerns going into this series, Philadelphia needs to make sure they figure this matchup out before it's too late.
But Keep Your Eye On: The Transition Game
Okay, so this isn't technically a player matchup, but it will be an enormous storyline in this series. Both teams were excellent in transition this season: Toronto was best in the NBA in points added in transition per Cleaning the Glass, while Philadelphia ranked 3rd. Ben Simmons, Pascal Siakam, and Kyle Lowry all were top 10 in the league in transition frequency, while Siakam and Kawhi Leonard were incredibly both top 3 in transition points per possession.
Jared Dudley was made a punch line when he called Ben Simmons "average in the half court", but he had a point. Simmons is an absolute dynamo in transition, with his speed, vision, and size combination a near impossible freight train to stop. When the game slows down, though, his utter lack of shooting is problematic, and when he, Joel Embiid, and Jimmy Butler share the floor, spacing gets tough, especially against a team as defensively talented as the Raptors, who ranked 4th in the NBA in points per play allowed in the halfcourt this year.
The question, then, becomes which team can best slow the transition game. Toronto's Danny Green is a superstar when it comes to stopping runouts, and Marc Gasol's positioning atop the key allows him to get back on defense. The Raptors ranked a solid 8th this year in transition frequency allowed.
The Sixers, on the other hand, have had trouble. Their size, love of offensive rebounds, and propensity to turn the ball over (25th this year in turnover percentage) all add up to some suspect transition defense: though they were pretty middle-of-the-pack when it came to ending runouts (13th in defensive points per possession in transition), they allowed far too many (27th in opponent transition frequency). This will undoubtedly be a point of emphasis for both coaches in this matchup.
Best Coach: Nick Nurse
Both of these coaches are pretty green when it comes to playoff experience, but I love what Nurse has done with the Raptors all season, perfectly meshing his system to his personnel (knowing when to implement motion offense vs. isolations; knowing the little-known individual defensive strengths of his players) and making excellent adjustments over the course of round 1 against the Magic. I give him the edge.
Nick Nurse. That is all.
RJ's Spicy Take™: "Raptors in 7: this series is much more of a toss up than most are suggesting. Many commenters are suggesting that Marc Gasol playing heavy minutes on Embiid is the game changer, but I think the most important part of the series is how many minutes of the Siakam at center lineup get played. More Siakam at center, and the 76ers might get run out of the series. More time letting Boban and Embiid stay in the game gives more of a chance for the Sixers to pull out a win."
100% Guaranteed Result: The Sixers have an incredibly talented starting lineup, but the Raptors have the wing (and interior) defensive personnel to keep Philly in check, while the disparities between the team's benches (Boban Marjanovic could be unplayable against Toronto's floor-spacing bigs, and Threegional Manager Mike Scott is missing at least the beginning of the series due to plantar fascia) helps the Raptors to pull away.
Raptors in 6
Here's our scorecard from last round:
| | | |
| --- | --- | --- |
| Derek | RJ | Actual |
| Bucks in 4 | Bucks in 4 | Bucks in 4 |
| Raptors in 5 | Raptors in 5 | Raptors in 5 |
| Sixers in 6 | Sixers in 4 | Sixers in 5 |
| Celtics in 6 | Celtics in 5 | Celtics in 4 |
by Derek Reifer, Northwestern University
contributions by RJ Garcia, Northwestern University