After a long wait, it's finally here, and we had to do a quick breakdown of each of the 1st round matchups. Arya vs. Daenerys could be a doozy, and Bran vs. Jaime has all kinds of history…
Oh yeah, the NBA Playoffs are here too. I guess I'll break those down too, with some help from my co-host RJ Garcia.
8. Detroit Pistons (41-41, 43.1 TSP) at 1. Milwaukee Bucks (60-22, 61.5 TSP)
This is about as lopsided a 1-8 matchup as you can get – the team with the best regular season record in the NBA will host the team with the worst record in the playoffs. You're here, so I'll analyze it anyway.
Season Series: Bucks 4 – Pistons 0
The Bucks dominated during the regular season, as they dominated most teams. Not too much to read into here.
Best Player: Giannis Antetokounmpo (27.7 points/12.5 rebounds/5.9 assists, 2nd in WAR)
This is pretty simple: Giannis is clearly one of the best 3 players in the league today. People can forget, though, that he's never won a playoff series in his career. The Pistons have nothing close to the perimeter defenders Boston threw at him last year, though. Giannis should be a wrecking ball on both ends.
Key Matchup: Giannis vs. Blake Griffin (24.5 points/7.5 rebounds/5.4 assists, 21st in WAR)
It seems simple for the key matchup to just be each team's best player, but in this case, not only do they play the same position, but the drop off in playmaking for the Pistons after Blake is so stark that if Giannis can shut him down, Detroit may struggle to put up 80. Blake isn't healthy, and it was to the extent that he didn't play in a playoff-clinching game 82 this week.
One-Play Microcosm:
Best Coach: Mike Budenholzer
Coach Bud is the favorite for Coach of the Year this year, and he's earned the recognition. Making a bad team mediocre is impressive, but making a good team great is a challenge all its own. The Bucks had a -0.3 Net Rating a year ago (20th in the NBA); they were +8.5 this year (1st). Bud has put his players in position to succeed all year long, and last year's Coach of the Year in Dwane Casey can't compare.
RJ's Spicy Take™: "Bucks in 4: The best team in the east in the regular season by a large margin against the worst playoff team in the NBA with a hobbled star. Don't overthink it."
100% Guaranteed Result: The Bucks are the better team in every facet of the game, they have the best player, the better coach, home court, and are hungry after going down round 1 a year ago. This has all the makings of a sweep.
Bucks in 4
7. Orlando Magic (42-40, 44.1 TSP) at 2. Toronto Raptors (58-24, 54.9 TSP)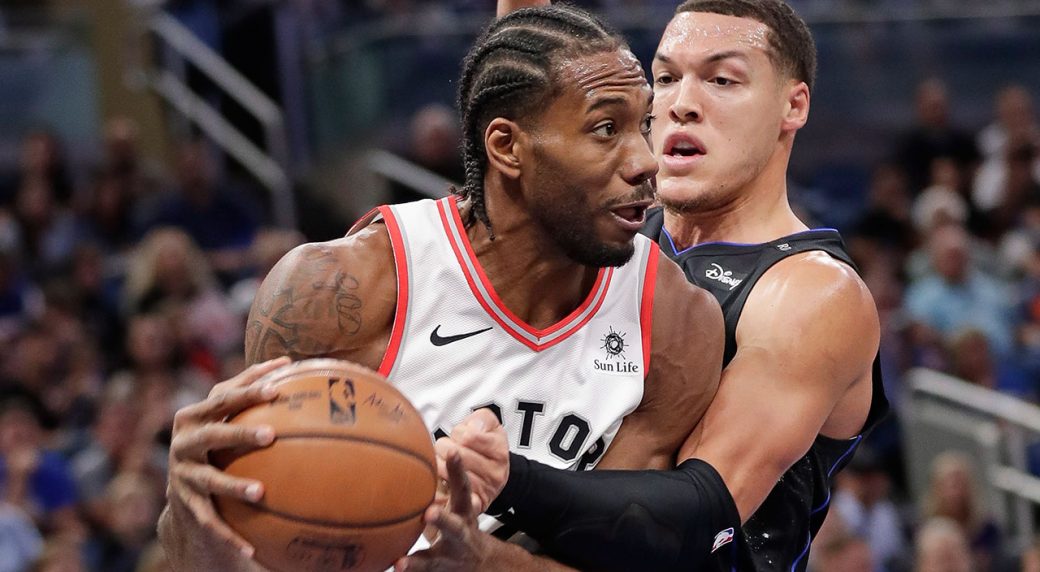 The Magic are back in the playoffs for the first time since 2012, and the Raptors are a familiar face with a brand new makeup.
Season Series: Toronto 2 – Orlando 2
Orlando matched up surprisingly well against Toronto in the regular season, though in each of their wins Toronto was missing one of either Kawhi or Kyle Lowry.
Best Player: Kawhi Leonard (26.6 points/7.3 rebounds/3.3 assists, 18th in WAR)
Kawhi missed a lot of games this year, which is how he fell all the way to 18th in WAR, but when he's on the court, he's an absolute wrecking ball. He's also the perfect playoff player – a lockdown defender at multiple positions, and an efficient iso scorer (7th this season in isolation points per possession among players with 2 tries a game) who can do it against the best team defense. Anyone who thinks this is the same old playoff Raptors is sorely mistaken (especially with no LeBron to haunt them):
Key Matchup: Nikola Vucevic (20.8 points/12.0 rebounds/3.8 assists, 10th in WAR) vs. Marc Gasol (13.6/7.9/4.4, 50th)
Nikola is clearly the Magic's best offensive option, as the All-Star and Most Improved Player candidate can do a lot of things offensively from a shooting (36.4% from 3), post-up (top 10 in post up frequency this season), and passing (4th in assists per game among centers) perspective. However, the Raptors may have his kryptonite in Marc Gasol, who's a big, strong, and smart defender whose quickness deficiencies shouldn't show up against Vucevic's style.
One-Play Microcosm:
Best Coach: Steve Clifford
Nick Nurse has had a great rookie season, but what Steve Clifford has done with this Magic team (8th in defensive rating this season without a true rim protector, and while starting DJ Augustin at point guard) is worthy of Coach of the Year discussion. Clifford will have his hands full with this matchup, but will do all he can to give his young team an edge.
RJ's Spicy Take™: "Raptors in 5: A series where the Raptors will get to use Marc Gasol for extended minutes against Vucevic. The Raptors with Gasol on the court play at the quality of a 70 win team."
100% Guaranteed Result: The Magic are good enough defensively to steal a game in Orlando, but they won't be able to keep up with Toronto in the points department.
Raptors in 5
6. Brooklyn Nets (42-40, 36.2 TSP) at 3. Philadelphia 76ers (51-31, 48.8 TSP)
After some long years toiling in the lottery (without lottery picks), the Nets are back in the playoffs to face what may be the final form of The Process.
Season Series: Philadelphia 2 – Brooklyn 2
People may be surprised to see how well the Nets played the Sixers in the regular season considering the disparity in team quality, but the extent to which the Nets' strengths match up with the Sixers' weaknesses could be cause for some concern. More on that in a bit.
Best Player: Jimmy Butler (18.7 points/5.3 rebounds/4.0 assists, 23rd in WAR)
I'm confident in saying this, and I'm sure most of you won't agree. But Joel Embiid's recently uncertain health and Ben Simmons' tailor-made game for scheming against in the playoffs (as the Celtics did with ease a year ago) tell me that Butler, a still-excellent defender who can score in isolation (2nd this year in points per possession in iso), could be the biggest factor for Philly in this battle.
Key Matchup: D'Angelo Russell (21.1 points/3.9 rebounds/7.0 assists, 30th in WAR) vs. Ben Simmons (16.9/8.8/7.7, 19th)
The Sixers are big. Very big. They start a 6'10" point guard and have Joel Embiid. That helps in almost all areas of basketball except one – slowing down quick point guards. The Nets' best player happens to be just that, and I see Russell being able to get into the lane at will against Simmons (and definitely JJ Redick). If Embiid isn't himself on the interior, the Sixers may have a problem on their hands here.
One-Play Microcosm: 
Best Coach: Kenny Atkinson
Atkinson has done a great job this year with limited talent, and I think he'll be able to employ his bench depth to take advantage of the Sixers' big drop off after their starters. Yes, depth tends to matter less in the playoffs, but with Embiid potentially not 100% and JJ Redick probably unable to play 36 minutes of high intensity playoff basketball throughout this series, it could come into play.
RJ's Spicy Take™: "76ers in 4:  The Sixers with a shortened playoff lineup I expect to be elite. 40 minutes of Embiid, Harris, Simmons, Butler, and Redick means only 40 minutes of bench time to manage."
100% Guaranteed Result: The Sixers' bench is so bad, their stars so unproven in the playoffs, and their guard defense so poor, I think the 36.2-win TSP Nets actually grab a couple of games here. The top-end talent, though, not to mention home court, will be too much for Brooklyn to overcome.
Sixers in 6
5. Indiana Pacers (48-34, 43.5 TSP) at 4. Boston Celtics (49-33, 48.3 TSP)
The Pacers are without their best player in Victor Oladipo, but the Celtics have been out of sorts all season – will they flip the switch?
Season Series: Boston 3 – Indiana 1
Boston did what it had to do in the regular season, including a big win last week to essentially clinch home court in this series.
Best Player: Kyrie Irving (23.8 points/5.0 rebounds/6.9 assists, 12th in WAR)
Not much to say here. Kyrie's done it at a career-best level this season, and he's a proven playoff commodity.
Key Matchup: Al Horford (13.6 points/6.7 rebounds/4.2 assists, 45th in WAR) vs. Myles Turner (13.3/7.2/1.6, 71st in WAR)
Myles Turner is one of the best rim protectors in the league, leading the NBA in blocks per game this season. But Al Horford is the exact type of player to neutralize that rim protection with his three point shooting and passing ability. Will Turner be able to have much of an impact in this series?
One-Play Microcosm:
Best Coach: Brad Stevens
Stevens has had a tough go of it this year in the locker room, but he's still likely a top-5 Xs and Os coach, and over the course of a playoff series with the number of adjustments made, I give him the edge even after a nice year from Nate McMillan.
RJ's Spicy Take™: "Celtics in 5: The strength of the Pacers is a strong interior defense anchored by Turner and Sabonis, but the Celtics don't go to the rim and don't draw fouls."
100% Guaranteed Result: For all the drama this season in Beantown, their talent up-and-down the roster is simply better than Indiana's, and without Victor Oladipo, the loss of Marcus Smart shouldn't hurt too much in this matchup. Combine that with home court and one of the best bucket-getters in the playoffs, and the scrappy Pacers won't push this series to the limit.
Celtics in 6
8. Los Angeles Clippers (48-34, 43.3 TSP) at 1. Golden State Warriors (57-25, 65.5 TSP)
The Clippers didn't expect to be here after trading Tobias Harris, but they find themselves in the – precarious – position of a road series against the champs. Can they win… a single game?
Season Series: Golden State 3 – Los Angeles 1
Not much to say here. The Warriors tend to win their regular season series.
Best Player: Kevin Durant (26.0 points/6.4 rebounds/5.9 assists, 7th in WAR)
You can take your pick here between KD and Curry, but I think Durant has shown himself to be a better playoff player. Teams don't attack his defense and he's more versatile on offense – not that it will matter much in this series.
Key Matchup: Durant (& Klay Thompson) vs. Danilo Gallinari (19.8 points/6.1 rebounds/2.6 assists, 27th in WAR)
Gallo is the best the Clippers' starting lineup has to offer, but he may have a tough go of it against the perimeter defense of Durant and Thompson. He'll need to be at the very top of his game all series long for the Clippers to make this interesting.
One-Play Microcosm:
Best Coach: Steve Kerr
Doc Rivers has had a great year with a melting pot of average to above average players, but Kerr has been here in the playoffs, recently, with this exact roster, and knows how to push their buttons come this time of year. I think he'll have more tricks up his sleeve than Rivers.
RJ's Spicy Take™: "Warriors in 4: Again, don't overthink it."
100% Guaranteed Result: The Warriors might look at this series like a slate of preseason games. FiveThirtyEight actually gives them a >99% chance to win. I think they'll rest up for the next round, and a Lou Williams 40-spot in LA is enough for one glorious victory.
Warriors in 5
7. San Antonio Spurs (48-34, 43.1 TSP) at 2. Denver Nuggets (54-28, 53.5 TSP)
The Spurs are as vulnerable as they've been in decades. The Nuggets are as good as they've been in decades. Will everything go as planned?
Season Series: Denver 2 – San Antonio 2
These teams were pretty evenly matched in the regular season despite their seeding disparity. How much of a predictor will those few games be, though?
Best Player: Nikola Jokic (20.1 points/10.8 rebounds/7.3 assists, 5th in WAR)
Jokic is an MVP candidate and the clear-cut best player in this series. He's a basketball genius offensively who can shoot like a wing, post up like a 90s big man (5th in points per possession out of the post), and pass like Steve Nash (with the most assists per game for a center in NBA history). His defense is probably underrated considering how often he's in the right place at the right time and get deflections. How the Spurs deal with him is the only question that really matters in this series.
Key Matchup: Jokic vs. LaMarcus Aldridge (21.3 points/9.2 rebounds/2.4 assists, 47th in WAR)
Aldridge is still an excellent player, who can raise a team's floor on both ends of the court. It might be hard for him to protect the rim against Jokic, though, as his shooting and playmaking force opposing centers to get out in space. I see this matchup as a very bad one for Aldridge, but it will be interesting to see how Gregg Popovich decides to approach it with multiple chances for adjustment over the course of the series.
One-Play Microcosm:
Best Coach: Gregg Popovich
Pop is still the best coach in the league, and though he's had limited playoff success of late, it's far more than that of Mike Malone. Pop is probably the only reason anyone would pick the Spurs in this matchup for a 48-win team on the road against a 2 seed.
RJ's Spicy Take™: "Denver in 7: There is no proof to this point that Nikola Jokic can be a playoff player at this point in his career, yet the Spurs won't be the team to expose him as they don't have enough talent in this matchup."
100% Guaranteed Result: The Spurs play hard and have a great coach; the Nuggets are young and unproven with the type of star that hasn't yet proven successful in a playoff series. Still, they're too athletic for San Antonio, and match up extremely well against the Spurs' two best players. I don't think Pop and co. can outrun them with 4 games in the Mile High.
Nuggets in 6
6. Oklahoma City Thunder (49-33, 58.2 TSP) at 3. Portland Trail Blazers (53-29, 53.7 TSP)
The Thunder have quietly been awful for the past few months, while the Blazers lost a star center to gruesome injury. Both had embarrassing stints in the playoffs a year ago. The series cannot end in a tie.
Season Series: Oklahoma City 4 – Portland 0
Oklahoma City took this matchup pretty handily during the regular season, though the games were close with one going to overtime. OKC also steamrolled just about everyone in the early goings of this season.
Best Player: Damian Lillard (25.8 points/4.6 rebounds/6.9 assists, 4th in WAR)
Another controversial pick. I think Paul George in a vacuum is probably the guy I'd most want, but with how unhealthy he's looked recently, I think Dame can more than close the gap. He's been incredibly underrated of late – 1st team All-NBA last year (likely 2nd this year, though I feel he deserves 1st again) and the best point guard in the NBA by WAR, he'll be extra motivated to show last year's playoff dud was a fluke. You could go either way here, though.
Key Matchup: Moe Harkless (7.7 points/4.5 rebounds/1.2 assists, 108th in WAR) vs. Paul George (28.0 points/8.2 rebounds/4.1 assists, 3rd in WAR)
Stopping Paul George is priority one for the Blazers in this series, and it'll be mostly tasked to Harkless, who is a solid but not elite wing with good size. If George's struggles continue, the Blazers may be able to attack his weaknesses.
One-Play Microcosm:
Best Coach: Terry Stotts
Despite last season's disappointment, Stotts is an excellent coach who knows how to put his guys in the right positions to succeed both on and off the ball. I think he can get the Blazers enough offensively with Kanter, and minimize Kanter's defensive deficiencies against a Thunder team that lacks the shooting (bottom-9 this season in 3PT%, and bottom-6 since the All-Star break) to optimize a spread pick-and-roll.
RJ's Spicy Take™: "Blazers in 7: If we were sure that Paul George was healthy, this pick would be OKC. However, I'm pretty sure that PG is still struggling with his shoulder injury, and will be impacted this series."
100% Guaranteed Result: I know, I know. The Thunder swept the season series. Enes Kanter is an opposing starter. I just can't get over the combination of OKC's recent incompetence (-0.8 net rating since the All-Star break) and Paul George's shakiness since returning from injury (40% from the field, 34% from 3 since the All-Star break), and the icing on the cake is the fact the Blazers have this series at home.
Blazers in 7
5. Utah Jazz (50-32, 52.3 TSP) at 4. Houston Rockets (53-29, 57.7 TSP)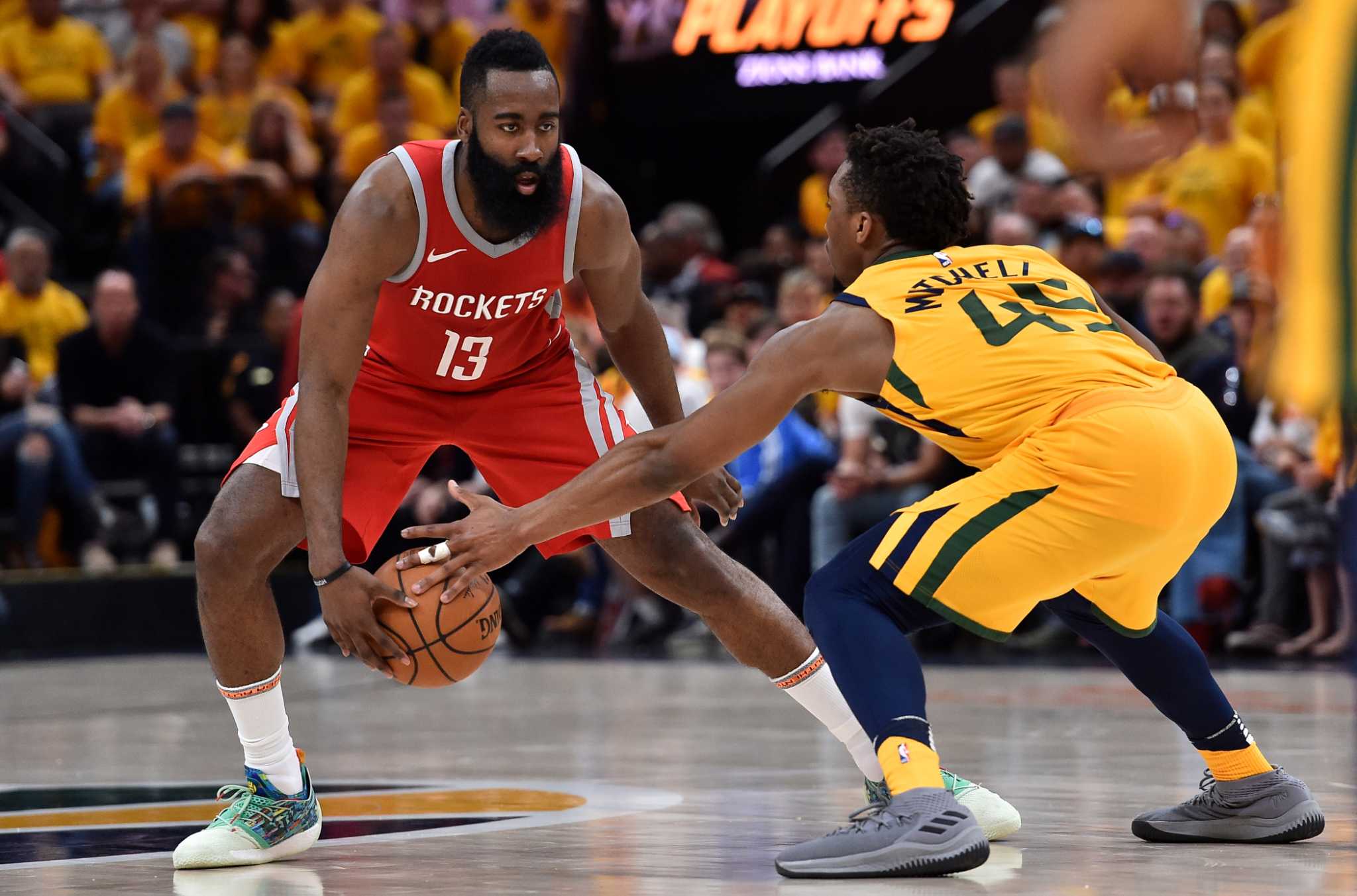 These teams met in the playoffs last year, too (the Rockets won 4-1), but under very different circumstances. Virtually the entire Rockets roster outside of James Harden is weaker, while the Jazz have had incremental improvements in multiple places. Will it be enough to swing the series?
Season Series: Houston 2 – Utah 2
These teams will make it a battle, if their regular season series says anything. They're very evenly matched, with a mediocre offense against a mediocre defense when the Jazz have the ball and an elite offense against an elite defense when the Rockets have it.
Best Player: James Harden (36.1 point/6.6 rebounds/7.5 assists, 1st in WAR)
This is no contest – though Rudy Gobert is one of the best players in basketball, Harden is potentially the league's MVP and one of the greatest offensive players the league has ever seen. He averaged 36 points per game this year with the next best number 28. NBA Math's TPA shows us exactly what an outlier looks like: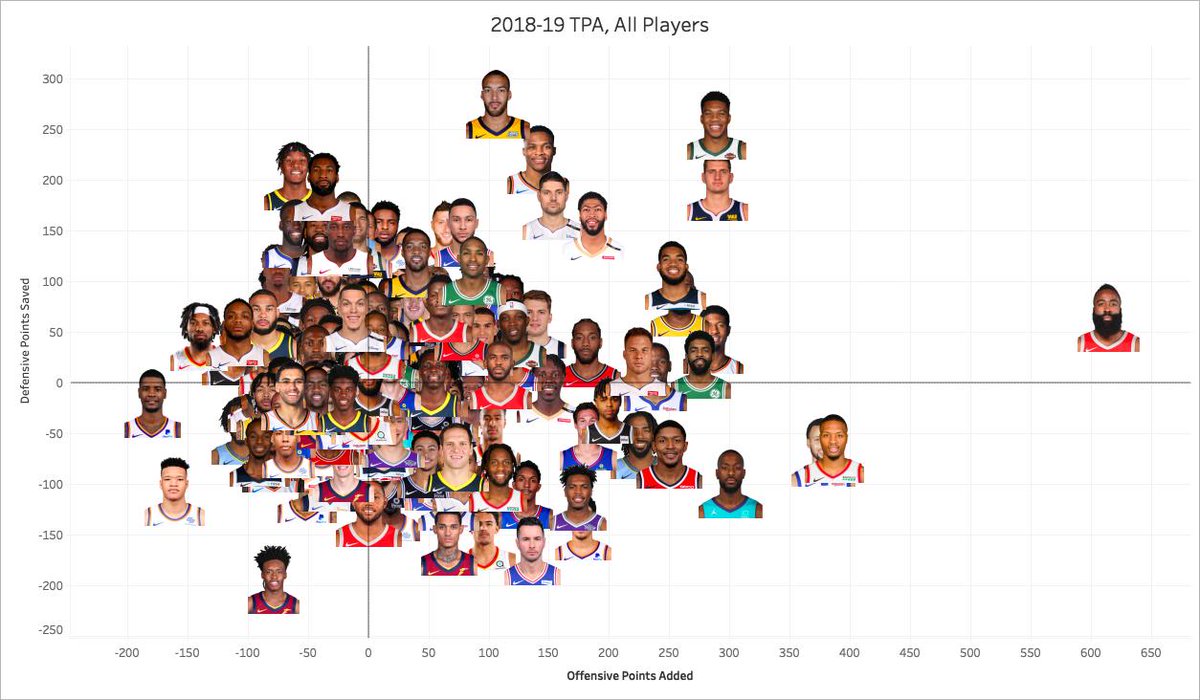 Key Matchup: Rudy Gobert (15.9 points/12.9 rebounds/2.0 assists, 6th in WAR) vs. Clint Capela (16.6/12.7/1.4, 42nd)
Clint Capela has had a down year after being an instrumental part of Houston's run to the 1 seed a year ago. His switching on defense and finishing on offense have both suffered. In Rudy Gobert, Capela can see exactly the type of player he hopes to become – a rim-running, paint-protecting star who is incredibly efficient on offense and absolutely changes the game on defense. It's pretty wild to see their closeness in box score stats be absolutely shattered when it comes to WAR. Capela may have his hands full with Gobert, but he has the talent level to stick with him.
One-Play Microcosm:
Best Coach: Quin Snyder
Mike D'Antoni is an excellent coach, too, but I personally more value a coach that can design an elite defense than one who can design an elite offense (though each coach has a linchpin with Harden and Gobert, respectively). Quin had a tough time getting his team points last year against Houston's switching system, but with the Rockets' personnel either gone (Mbah A Moute, Ariza) or not as effective as last year (Eric Gordon, Chris Paul), Snyder will have plenty of tricks up his sleeve to get Donovan Mitchell a head of steam toward the hoop.
RJ's Spicy Take™: "Jazz in 6: This series rests on Chris Paul. Is he the 2018 playoff Chris Paul who dropped 40 points on the Jazz? Or is he the 2018-19 season Chris Paul who has only scored above 30 once the whole season? My bet is on the latter."
100% Guaranteed Result: I love this Jazz team. They have the second-best net rating in the entire NBA since the All-Star break. Unfortunately for them, the Rockets have the best. Utah's top-ranked defense will make this series the best this first round has to offer, but I don't see them being able to match James Harden punch for punch when the game slows down.
Rockets in 7
by Derek Reifer, Northwestern University
contributions by RJ Garcia, Northwestern University