With some help from my co-host RJ Garcia, we already broke down round 1 and round 2 in the East. Now, the bracket is finally complete, as the Warriors finished off the Clippers and the Nuggets survived the Spurs. How do we see things shaking out?
4. Houston Rockets (53-29, 57.7 TSP) at 1. Golden State Warriors (57-25, 65.5 TSP)
Season Series: Houston 3 – Golden State 1
Houston has been excellent against the Warriors for the past couple of seasons now. It's partially matchups and partially motivation; they always seem to play Golden State tough. In what seems to be the most vulnerable postseason of the Durant era, will this trend continue into this series?
Best Player: Kevin Durant (26.0 points/6.4 rebounds/5.9 assists, 7th in WAR)
James Harden, in my opinion, was the best player in the regular season this year, and deserved MVP. Kevin Durant, though, is the far more polished postseason player. He's more useful defensively, and his iso scoring is more proven in the playoffs than Harden's. This is close, but KD is a man atop his game right now (especially in the last few games), and with the Rockets without last year's KD-stopping personnel like Trevor Ariza and Luc Mbah A Moute, Durant figures to continue his tear in this series.
Key Matchup:  James Harden (36.1 points/6.6 rebounds/7.5 assists, 1st in WAR) vs. Klay Thompson (19.8/6.1/2.6, 27th)
Everyone knows this Rockets team runs almost entirely through James Harden. One underrated aspect to this matchup is that the Warriors don't really have too much personnel to match up against him. Andre Iguodala is toward the end of his career, and Klay seems to be their best defensive option. However, he rolled his ankle in the Clippers series, and is even listed as questionable for Game 1 against the Rockets (this is where the quick turnaround for the Warriors after being taken to 6 games by LA can come back to bite them).
It seems likely Klay will be the Warriors' primary choice of defender against Harden, but he actually ranked pretty middle-of-the-pack this season in isolation defense; 6th on the Warriors and just 53rd percentile league-wide in terms of points per possession allowed. He may have lost a step from last season, when he ranked in the 82nd percentile.
That could be a problem, especially if he isn't himself health-wise. James Harden ran by far the most isolations in the NBA this season (48.7% of the time; second place was just 28.8%), and was still the best in the NBA at it on a points per possession basis. Sometimes he can seem to be going absolutely nowhere, and then drain one in your (Klay's) face:
Things get even more interesting when you realize that second place 28.8% belonged to Harden's teammate, Chris Paul. The Rockets are going to be running a ton of isolations, and the health and effectiveness of both the Warriors' guards (Steph Curry also had some ankle issues against the Clippers) will be of paramount importance.
But Keep Your Eye On: The Rockets' Defense
Last season, the Rockets used a number of switchable wings to wreak havoc against the Warriors in the playoffs. This year, as I mentioned, they're missing Ariza and Mbah A Moute, while Clint Capela has regressed (27th among centers in defensive RPM this season after ranking 10th a year ago), and Chris Paul and PJ Tucker are a year older. Houston's defense was mediocre at best all year, ranking 17th in defensive points per possession and 18th in opponents' effective field goal percentage.
The Warriors, of course, were 1st overall in offense by both points per possession and effective field goal percentage. This isn't exactly hard-hitting analysis, but they simply have too many options: Steph, Klay, KD, and Draymond have a system that runs to perfection, and it's hard to visualize these Rockets having the personnel or coaching to really significantly stop them from scoring.
The Warriors are above average at… pretty much everything.
Best Coach: Steve Kerr
Mike D'Antoni is a former coach of the year and an excellent offensive mind, but Steve Kerr got the better of this matchup just a year ago, and his playoff pedigree (amazing talent to work with notwithstanding) speaks for itself. D'Antoni hasn't shown an elite ability to make course-of-series adjustments in his playoff career, and last year had a 3-2 game lead over Kerr before losing in 7.
RJ's Spicy Take™: "Warriors in 5. Despite the first round taking longer than the Warriors would like, it might end up being a good thing because it finally got Kevin Durant engaged with the team. After taking 8 shots in the team's game 2 collapse and giving a press conference about how he was being a team player and that passing to Draymond, McKinnie, and Bogut was actually better than him shooting, he realized that it was time for him to get his shots up, and the team won by on average of 14 points per game in this four game stretch. When Durant is locked in and not passive, this team won't lose a series, whether it is this year or if Durant would choose to set history and go for a four peat or five peat in the coming years."
100% Guaranteed Result: With a short turnaround, injury concerns, a bad matchup, and an all-time motivated Rockets club, this series could very well be the closest this KD-era Warriors dynasty ever gets to losing a playoff series. However, a locked-in Kevin Durant, coaching advantage, home court, and higher ceiling should be enough for them to scrape by Houston in a series that goes the distance.
Warriors in 7
3. Portland Trail Blazers (53-29, 53.7 TSP) at 2. Denver Nuggets (54-28, 53.5 TSP)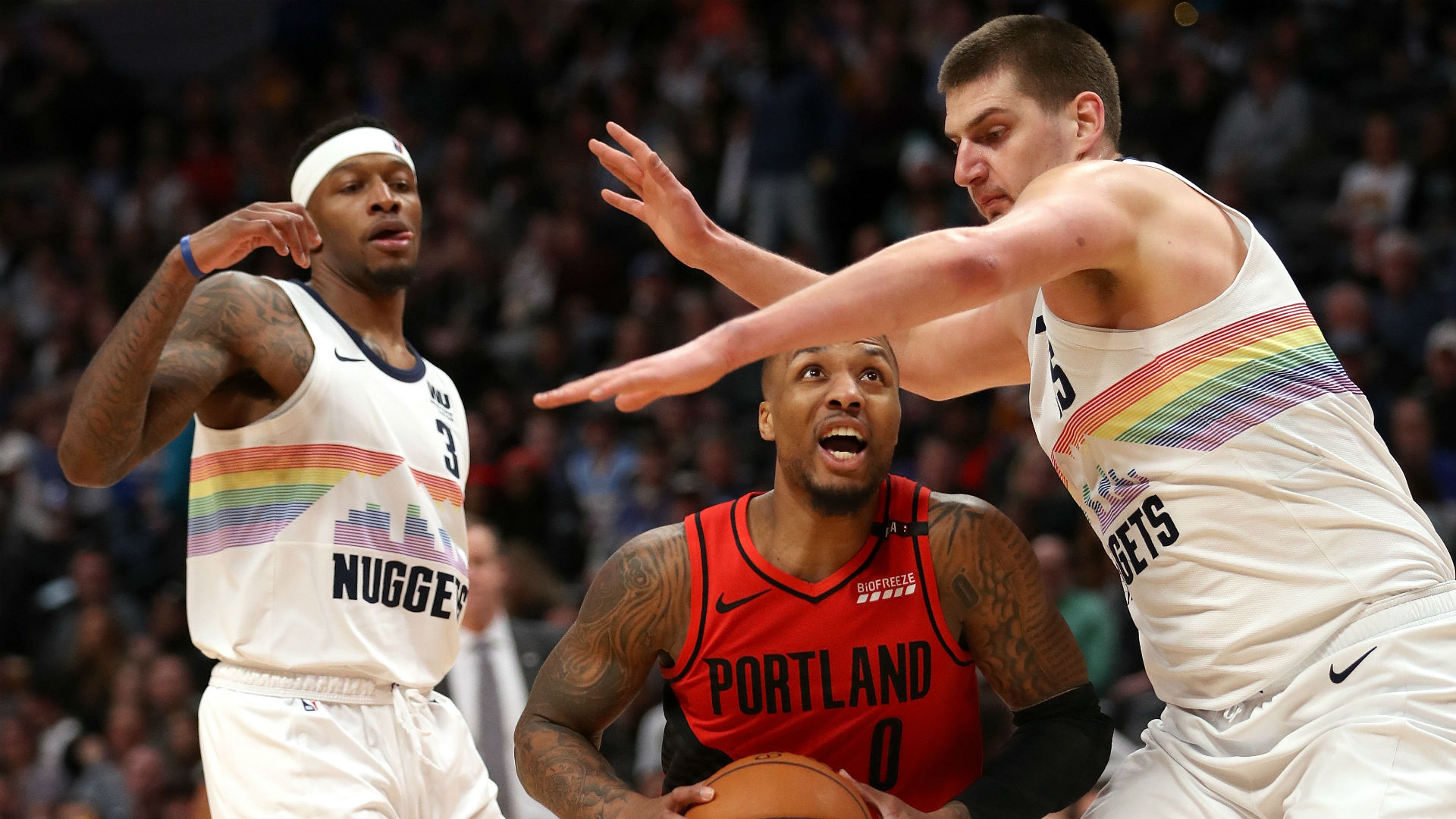 Season Series: Denver 3 – Portland 1
Denver got the better of Portland during the regular season, with Nikola Jokic being largely dominant, even when Jusuf Nurkic was available for the Blazers. That might not bode well for Rip City in this series.
Best Player: Damian Lillard (25.8 points/4.6 rebounds/6.9 assists, 4th in WAR)
In my breakdown of round 1, I said this about Dame when I called him a better player than Paul George: "He's been incredibly underrated of late – 1st team All-NBA last year (likely 2nd this year, though I feel he deserves 1st again) and the best point guard in the NBA by WAR, he'll be extra motivated to show last year's playoff dud was a fluke. You could go either way here, though."
Nothing has changed. Last round simply confirmed Dame's status as one of the best 10 players in the world right now, and although Denver has a solid defensive guard in Gary Harris, their options aren't exactly plentiful, and the lack of a Paul George-level stopper could be very apparent.
Of course, even with a Paul George-level stopper, things can be difficult.
Key Matchup:  Nikola Jokic (20.1 points/10.8 rebounds/7.3 assists, 5th in WAR) vs. Enes Kanter (13.7/9.8/1.7, 181st)
Jokic gets barely edged by Dame in my best player selection, but it's not by much. He's an all-around superstar (his defense is a bit underrated too), and he's absolutely terrorized the Blazers this season, averaging just under 26, 10, and 8 on a whopping 62% from the field.
He's also thus far dispelled concerns that he wouldn't be an effective playoff player. He currently leads all playoff players in offensive (and total) win shares, box plus-minus, and value over replacement player.
The Blazers might've had at least a kind-of-answer against Jokic in Jusuf Nurkic, but without him, it will fall to Enes Kanter, who, well, isn't the best defensively. Kanter is also not fully healthy, and could be questionable in multiple games this series. Against a team with as many shooters as the Nuggets, Kanter's deficiencies against spread pick-and-roll will be much more apparent than they were against a poor-shooting Thunder team in round 1. Little actions like this will be common:
Look at how easily Jokic can manipulate Kanter off the dribble, collapsing the entire defense and creating a wide-open corner three:
This might be the best possible matchup for Jokic: not only do the Blazers not have a proven defensive center to match up against him, but average-at-best defensive guards like Lillard and CJ McCollum could fall victim to his string-pulling and backdoor passing. I expect him to have an enormous impact on this series.
But Keep Your Eye On:
The Nuggets have been very efficient in the half court this season (7th overall in points per possession), which is very important in a seven-game series where teams can make adjustments to slow the transition game. Portland, though, has had some rather discouraging results in the half court defensively (16th in points per possession) and they're missing their defensive stopper in Nurkic.
On the other end, Portland was one of the worst in the league at moving things along offensively, with their percent of plays run in the half court, per Cleaning the Glass, ranking 27th league-wide. Denver, on the other hand, made a concerted effort to keep teams out of transition, as they ranked 5th in opponent half court percentage. This indicates that the Blazers' slow play style meshes exactly with the Nuggets' defensive identity, which could actually be bad news for Denver, considering Portland liked not pushing the ball just fine – they were 4th in the NBA in halfcourt points per possession.
Best Coach: Michael Malone
Malone has had a borderline coach-of-the-year type of season, and is coming off a victory against Gregg Popovich himself. Malone is largely unproven in the playoffs, but so is his counterpart in Terry Stotts. I love what Malone did this year in overcoming injuries and showing the ability to win with multiple types of lineups – that could come in handy has a series drudges on.
RJ's Spicy Take™: "Portland in 6. Damian Lillard has gotten absolutely on fire from very deep but I see him getting to the rim much more in this series where he is going from one of the best defensive centers in the league in Steven Adams to Nikola Jokic."
100% Guaranteed Result: Both Damian Lillard and Nikola Jokic have very favorable personnel matchups in this series, but what it will come down to is the combination of Denver's slight edges in coaching & depth and home court advantage. This series should go down to the wire.
Nuggets in 7
Here's our scorecard from last round:
| | | |
| --- | --- | --- |
| Derek | RJ | Actual |
| Warriors in 5 | Warriors in 4 | Warriors in 6 |
| Nuggets in 6 | Nuggets in 7 | Nuggets in 7 |
| Blazers in 7 | Blazers in 7 | Blazers in 5 |
| Rockets in 7 | Jazz in 6 | Rockets in 5 |
by Derek Reifer, Northwestern University
contributions by RJ Garcia, Northwestern University