The Knicks are horrible at basketball.
This is not a judgement of the franchise, or what may or may not happen this offseason, but simply a declaration of current fact. The Knicks' leading scorer for the '18-'19 season is Tim Hardaway Jr., who was on a massively bloated contract and is no longer on the team. The leading scorer on the active roster is rookie Kevin Knox, who is shooting 36% from the field. Their entire team is young, with some fringy prospects such Damyean Dotson and Allonzo Trier. They are going to have two max spots in free agency this summer, and likely will not bring back up to 10 players that are on the current active roster: between non-guaranteed contracts, team options, and unrestricted free agents, it's clear this isn't the team that the Knicks front office sees as their team going forward. So the Knicks sit at 11-47, good for a 19% winning percentage, and obviously the worst team in the league.
Except they're not.
The worst team in the league is the Phoenix Suns, who have been playing mostly at full strength for the entire season, with "star" shooting guard Devin Booker having played more minutes than any Knicks player this year. How on earth (no pun intended) is it possible for the Phoenix Suns to be this bad?
Despite boasting a highly-touted shooting guard in Devin Booker, the Suns have the worst record in the NBA.
The story of the '18-'19 Suns is extremely bizarre:
The aforementioned Devin Booker is enjoying a career high in both true shooting percentage (57.1%), and assists (6.7 per game), and has been individually mostly efficient on offense.

#1 overall pick DeAndre Ayton has pretty much been as good as advertised, averaging 17 and 11 on strong efficiency, 59% from the field, and 61.2% true shooting.

TJ Warren is having a breakout year, suddenly becoming a knockdown three-point shooter, at 43% from behind the arc after shooting 22% last year, and boasting a very solid 58% true shooting.

Even their midseason pickup, Kelly Oubre Jr., is posting career highs thus far in Phoenix, with a 55% true shooting (the best rate of his career) and is shooting 53% from 2-point range and drawing more fouls than ever.
And yet, this team is a truly terrible, horrible, no good, very bad team team that is worse than the dreadful Knicks, in both the standings and TSP. Unlike the Knicks, though, their roster is mostly set in stone for the foreseeable future
Sure, the defense is bad. The Suns have the 29th-rated defense in points per possession, per Cleaning the Glass. DeAndre Ayton's big draft question mark was on the defensive end, and Ayton hasn't answered those questions to this point, as he ranks 56th of 65 centers in ESPN's Defensive RPM metric. Booker also has never been known as a defensive stalwart, and has contributed to their low defensive ranking.
DeAndre Ayton has a lot of work to do on the defensive end.
However, the Suns also have the 28th-rated offense, below that of the lowly Knicks, and despite the previously noted individual successes of their top players, the sum of the parts the Suns have been rolling out is horrible. This is undoubtedly the bigger issue for the Suns going forward – Ayton could get better on defense, as could some of the other younger guys, but how much better can some of the top Suns guys realistically get on offense?
Booker, for example, is averaging 24.7 points and 6.7 assists, on 57.1% true shooting. How many players have put up, say, 25 points, 7 assists, and 58% true shooting in NBA history? Only 8, including James Harden, LeBron James, and Michael Jordan. For Ayton, how many players have put up 20 points, 10 rebounds, and a 61% true shooting percentage? 10, including Kareem Abdul-Jabbar, Giannis Antetokounmpo, and Charles Barkley.  Simply put, the next level for Ayton and Booker to reach is historic-level production, so while perhaps they will continue to ascend, it's also possible, even from an optimistic perspective, that there is a regression to the mean coming in the future.
And what if these guys regress next year? Sure, the Suns will almost certainly have a 14% chance at Zion Williamson in the upcoming draft, but in the likely case they don't get him, and there is any regression from Booker, Warren, or Ayton next year, this team could somehow be even worse! Even more amazingly, unlike most teams that are very bad this year, such as the Knicks or the Hawks, the Suns are projected to have no cap space this summer, assuming that they retain Kelly Oubre Jr., and Tyler Johnson accepts his player option (spoiler alert: he will). Somehow, this team is not only awful, they are expensive.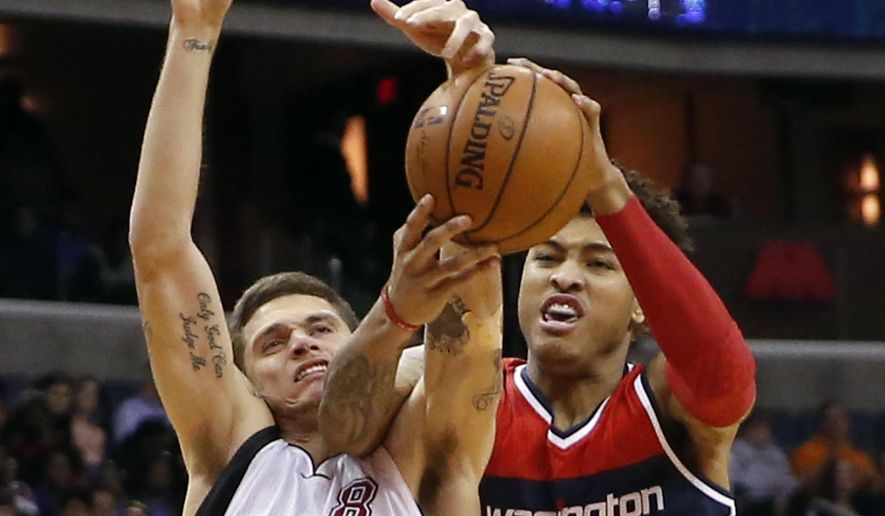 Tyler Johnson (left) and Kelly Oubre Jr. aren't "bad" players, but their impending salaries are significant.
In short, the future for the Phoenix Suns is probably as bleak as the present, which is somehow the case even after they have had three straight top-4 picks, and probably another top-4 pick this year. It's helpful to remember: just being bad and getting high picks doesn't guarantee a Sixers-level "process" – you also need some competent guys in there running the ship. The young talent currently on the team isn't all that young, and doesn't appear to be all that talented either. Their drafting, player development, and some combination of the two, has been heinous – their first-round picks since 2012:
Year
Pick
Player
WAR Rank/Notes
Age
2012
13
Kendall Marshall
(out of NBA)
2013
3
Alex Len
(on Hawks)
2013
30
Nemanja Nedović
(out of NBA)
2014
14
TJ Warren
113th
25
2015
13
Devin Booker
84th
22
2016
4
Dragan Bender
379th
21
2016
8
Marquese Chriss
(on Cavs)
2017
4
Josh Jackson
287th
22
2018
1
Deandre Ayton
114th
20
2018
10
Mikal Bridges
99th
22
Drake said he was "wet like I'm Book". Unfortunately, Arizona has a very dry heat.
by RJ Garcia, Northwestern University