Boston and Philadelphia.
Perhaps the two most historic American cities; one with a football team named the Patriots and the other with a basketball team named after the year the Declaration of Independence was signed.  One who traded for Jayson Tatum, and one who traded for Markelle Fultz. The NBA's two Atlantic Division (because I guess that's technically a thing) rivals have had an interesting pair of seasons: the Celtics had championship aspirations from the start, and despite a disappointing, drama-filled run, they stayed put at the trade deadline; the Sixers have made multiple huge win-now moves and effectively capped off their long, arduous Process.
They currently rank 4th and 5th in the East, and seem destined for a second-, or even first-round matchup in the playoffs.
For how enticing of a matchup this would be, it's been rather one-sided over the past few seasons. As a matter of fact, it's been incredibly one-sided:
| | | |
| --- | --- | --- |
| Season | Regular Season Series | Playoff Series |
| 2014-2015 | BOS wins 4-0 | |
| 2015-2016 | BOS wins 4-0 | |
| 2016-2017 | BOS wins 3-1 | |
| 2017-2018 | BOS wins 4-1 | BOS wins 4-1 |
| 2018-2019 | BOS leads 3-0 | |
The Celtics have gone 22-3 in the last five seasons against the Sixers, and have won the last 4 games in a row. The records from 2014-2017 make some sense, as the Sixers were busy "Processing", and won fewer than 29 games in each of those years. However, last season, Philly was a 52-win playoff team, and thus far this season, they're 38-21 (38-18 against non-Celtics teams).
Why has the Celtics' domination of the Sixers been so, well, dominant? And can we expect it to continue if these teams indeed meet in the postseason?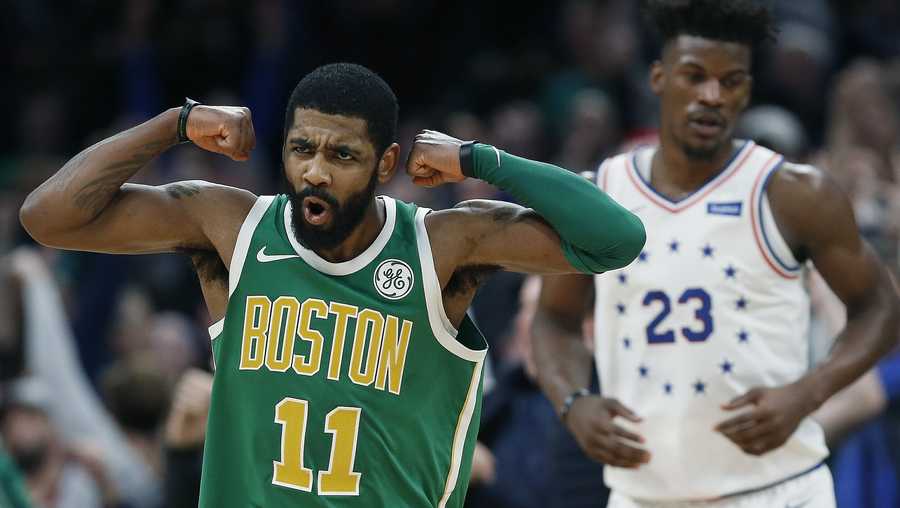 The Celtics have had their way with the Sixers of late.
Of course, Jimmy Butler's only been with Philly in the past 2 matchups; Tobias Harris only in the most recent. On the other hand, Kyrie Irving and Gordon Hayward were sidelined throughout last season's playoff series (Hayward during the regular season as well). There have been plenty of moving cogs in this matchup, but 4 of them, and perhaps the 4 most important, have remained the same throughout the past two seasons: Ben Simmons, Joel Embiid, Al Horford, and Brad Stevens.
Butler and Harris have been big-name acquisitions for the Sixers, but the team still runs through Simmons and Embiid. The two have led the team in usage rate significantly in the small sample since the Harris acquisition. Although over the course of the season Butler has tied Simmons in usage (with Embiid head and shoulders above), his similar offensive role to Harris tells me there's a solid chance recent trends will continue.
Tobias Harris and Jimmy Butler, both forwards, need to learn to mesh over the remainder of the regular season.
What about Al Horford and Brad Stevens? Well, they're the two constants for Boston who have been able to consistently neutralize Simmons and Embiid over the past two seasons. Embiid has had particular one-on-one trouble with Horford; their regular season matchups:
And postseason:
On the surface, it doesn't really seem like Embiid has had all that much trouble. He's consistently outscored and outrebounded Horford in their 12 career matchups, in which Horford is 10-2. That's likely just because Embiid is so darn good that even his tough matchups look like solid performances – here's how he's fared against the Celtics compared to how he normally fares (regular season and playoffs combined):
| | | |
| --- | --- | --- |
| | vs. Horford | Other |
| PPG | 21.6 | 24.9 |
| FG% | 0.420 | 0.484 |
| 3P% | 0.205 | 0.309 |
| FTA/G | 5.6 | 8.9 |
| BLK/G | 1.6 | 1.9 |
| GmSc | 15.6 | 19.1 |
| +/- /G | 1.9 | 7.4 |
It sure seems Horford and the Celtics have slowed him down. The biggest standouts to me: his shooting efficiencies crater, and he takes more than 4 fewer free throws per game. For someone with a usage as high as Embiid's, these differences really add up over the course of a game – or series.
What, exactly, have Horford and Stevens done against Embiid?
For one, Joel can draw fouls on the block in many different ways. Quick, right off the catch:
Or after a flurry of moves:
Horford, though, doesn't fall for them. Here, Embiid tries a similar series of spins and up-fakes, but Horford doesn't leave his feet, anticipates the shot, and blocks it:
Look at this play from later in the same game. It's crunch time in a within-reach game against his archrival, and Joel looks to take matters into his own hands. A 7'2″, 249-pound behemoth mono e mono and:
Although Embiid has 4 full inches on Horford, their listed weights are within a pound. Horford is one of the best defenders in the league, and he knows how to use his combination of strength and skill to slow the Sixers' big man's rumbling. Brad Stevens knows this, and he also knows that when Horford's not in the game (and even when he is), stopping Embiid is a team effort. Stevens shows him many different looks with quick doubles, and forces Embiid (3.1/3.7 assist-to-turnover ratio for his career) into tough decisions:
Embiid has shot just 25-for-70 (36%) when matched up directly against Horford, per ESPN Stats and Info. It's not just on defense where Al gives Joel a hard time, though. Embiid may be a Defensive Player of the Year candidate, but his real impact comes in the paint, where he can lock down post-ups and help from the weak side to block shots. Horford gives Embiid a unique challenge here with his ability to both shoot from the outside (37% from 3, both this season and for his career) and playmake (over 4 assists per game in each of his 3 seasons with Boston). This makes him very difficult to deal with in pick-and-roll/pick-and-pop situations. You don't know if he'll do this:
Or this:
Or this.
This kind of swiss-army-knife ability makes it difficult for a player like Embiid to really impact the game the way he wants to. His opponent rim FG% of 0.501 per Bball Index, which ranks in the 90th percentile league-wide, contributes to his A interior defense grade on the site – his perimeter defense grades as an F. Against the Celtics, who have positionless shooters across the roster, it's hard to "hide" Embiid on anyone else when Horford is on the floor, so his defensive impact is easier to neutralize.
Al Horford's middle name is Joel (really), and his nickname is Godfather. You do with that combination as you will.
Al Horford has caused problems for Joel Embiid on both sides of the ball.
It's not all JoJo's fault, though. It's a team game, and his fellow young superstar Ben Simmons has had just as much trouble with Brad Stevens.  He was heavily criticized after scoring just 1 point in Game 2 of last season's playoff matchup:
Of course, Simmons is far more than a scorer, and scoring is probably his least advanced skill. But his inability to shoot is so stark that over the course of a 7-game series, with many changing strategies and adjustments (and against a coach as good as Brad Stevens), perhaps he, too, is simply easier to deal with. Many people like to put Simmons in the Giannis Antetokounmpo category of "if he gets a jumper, watch out". Giannis can't shoot very well, either, but he's like JJ Redick in an empty gym compared to Simmons, who's attempted just 14 threes in his entire career – he's 0-14, and it's not like defenders are making those shots all that difficult for him.
Most of Simmons' value comes from his uniqueness as a player – he's a point guard in transition, a power forward in the half court, and just about whatever he wants to be on defense. The Celtics, though, have a lot of players with the size and skill to give him problems, from Jaylen Brown to Marcus Morris to Marcus Smart to even Al Horford (not to mention Jayson Tatum and Gordon Hayward, who are both more than serviceable at defending forwards). When all of these guys can be on the court at once, it's hard for a player like Simmons to exploit the matchup problems that he's used to exploiting against teams with more traditional small guards (who he can overpower) or big, lumbering centers (who he can blow by). Brad Stevens knows this, and he will not only adjust his lineups accordingly, but tailor his strategy as well. It sure seemed to work against Simmons last time.
The Celtics' endless supply of good defensive wings can give Ben Simmons a lot of trouble.
There's far more to unpack in a potential series between these teams, and plenty of moving parts. Last season's 4-1 Celtics romp was missing Kyrie Irving, Gordon Hayward, Jimmy Butler, and Tobias Harris – you can decide yourself which team's reinforcements this season are more impactful. However, the combination of the sheer extent of the success Boston has enjoyed in their recent matchups against Philly, the matchup problems for Philly's two high-usage stars in a potential series, and the likelihood of such a series considering the current standings, should be enough to concern any fan or bettor of the Sixers in this postseason.
by Derek Reifer, Northwestern University