Note: this post was originally published for Metsmerized. Give them a click!
Bears are famous for hibernation.
Maybe that's what happened in 2020 for Pete Alonso. The affably-known "Polar Bear" had about as red-hot an MLB debut as physically possible, when he set the all-time record for home runs in a rookie season with 53 in 2019. Last season, though, was clearly a down year. Pete saw declines vs. his rookie year in just about everything: batting average, on base percentage, slugging percentage, exit velocity – I could go on but won't for his sake.
Sure, he was still a solid player – his 118 wRC+ implies he was 18 percent better than the average hitter. But slightly above average isn't only a disappoint compared to his rookie season – it simply won't cut it for someone who is relegated to first base or DH because of defensive deficiencies.
Of course, even with a down 2020, Pete is still in rare company among Mets in their first two seasons, and his hot spring lends to optimism for 2021:
To continue on that historic trajectory, he'll have to fix the issues that plagued him in the shortened 2020 season – but in order to fix issues, you first have to identify them.
From a bird's-eye view, his peripherals didn't change all that much: his strikeout rate actually declined slightly vs. 2019, while his walk rate was similarly consistent. His hard-hit rate and exit velocities didn't exactly tank, either, though he saw declines, from 73rd percentile in MLB his rookie year to 61st last year, per Statcast. What was concerning was when – and where – those declines happened.
Is it a question of plate discipline? Over the course of 2020, Pete actually was given more pitches in the strike zone (Zone%). Counterintuitively, in the second half of the season, when he saw a sharp increase in the number of pitches he saw in the strike zone, he suffered a sharp decline in his hard hit percentage:
How is that possible? Of course, simple correlation doesn't imply causation, but it's still strange that a massive slugger like Pete Alonso could start to see the lowest hard-hit percentages of his career at the same time he's seeing the highest proportion of pitches in the strike zone.
It sure seems down the middle isn't where Pete is most deadly – look at his difference in home runs by zone over his first two seasons, via Mets Fix: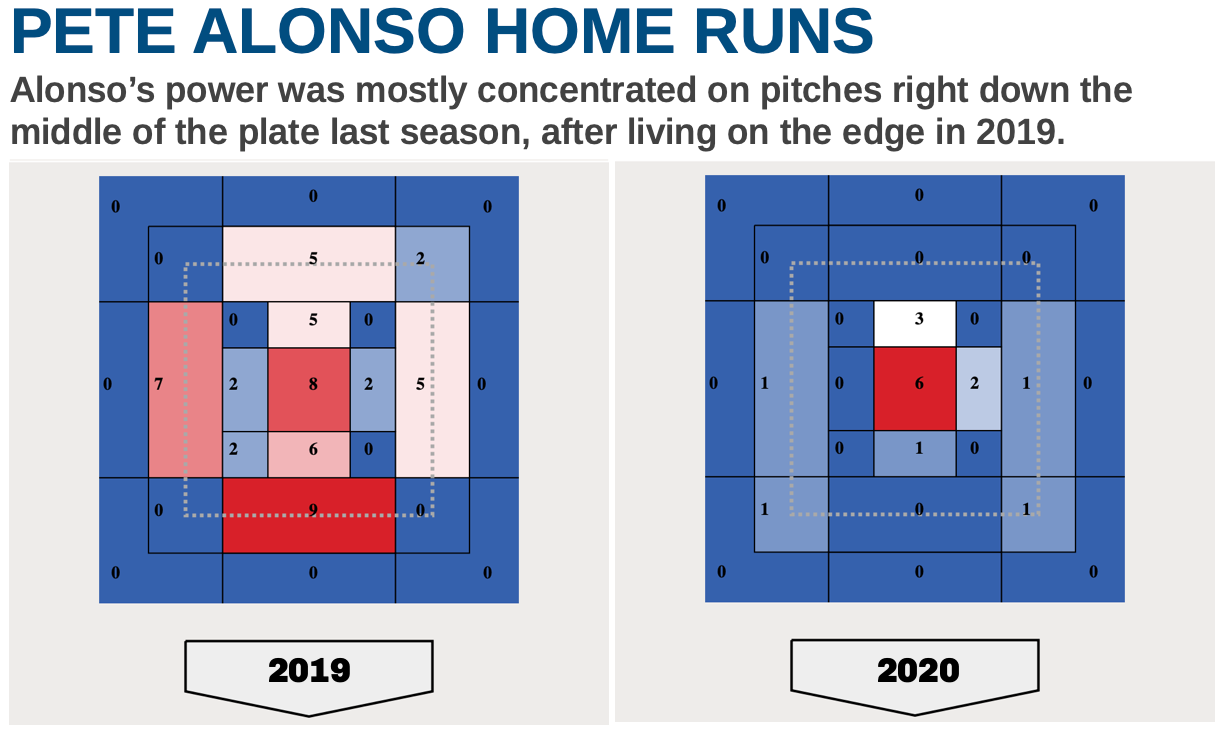 That's a stark difference, even accounting for fewer pitches being seen in the strike zone.
In fact, Pete's entire swing profile seemed to shift in 2020. Even normalizing for the number of pitches he'd seen by zone, he was swinging a whole lot less often at high pitches – and chasing a lot more at the lower pitches. Looking at the graphics below, you can see once-medium swing rates above the strike zone disappear, and patches of red down below start popping up:
It looks like an intentional change in strategy, and isn't necessarily bad – after all, Pete has insane strength on low pitches:
That's continued through 2021 Spring Training, in which he most recently muscled this pitch out to add to his growing low-pitch-hitting resume:
The interesting part, though, is that Pete had never really lost any of that ability. His average exit velocity on pitches low in the zone (and low under the zone) has remained mostly consistent across his short career:
Opposing teams appear to have caught on. He's received a steady diet of high fastballs thus far in Spring Training, with teams expecting him to either lay off or not hit well. So far, he's made the adjustment:
And look at this one from a separate game, against Houston:
What's old seems to be new again – crushing the high heat was a staple of his 2019 rookie campaign – e.g. this bomb off MadBum:
When we think about plate discipline, we often can fall victim to thinking inside the box (no pun intended) – swing at the balls in the strike zone, don't swing at the ones outside the strike zone. It may seem strange, but if Pete can prove to pitchers he's again willing to crush those upper zone pitches, even those out of the strike zone, everything else could start to fall into place.
A more varied diet of pitches to swing at can also mean a more varied placement for batted balls.
Look at this bomb from 2019, on a high-outside delivery from an elite pitcher in Yu Darvish:
This spring, a big thing to watch for Pete would be whether he could return to his opposite-field approach. MetsMerized's own Mathew Brownstein has already noticed positive returns:
This pitch wasn't exactly high heat, but Pete did what superstar sluggers can do with the outside pitch – take it where it wants to go.
4 runs on the board.
It's clear that Pete has been making a lot of big changes heading into this season. Off the field, the man who once led the #LFGM hashtag charge on Twitter has deleted all forms of social media to focus. He'll need changes to translate between the lines as well to fill out the superstar potential all baseball fans know he has.
You never want to read too much into Spring Training results – but Spring Training approach can still be telling. So far, a willingness to go back to his process from 2019 – crushing pitches up in the zone and taking balls over right-center – seems to tell a positive story.
Winter is over, and the Bear is waking up.
by Derek Reifer, Northwestern University
follow Derek on Twitter @d_reif
follow Corner Three on Twitter @corner3sports
for more Corner Three Mets Tweets, follow @MetsAnalytics
follow Metsmerized on Twitter @Metsmerized
cover art via Bleacher Report