Note: this post was originally published for MetsMerized. Give them a click!
How we feeling, Mets fans?
It's true – Francisco Lindor, Mr. Smile, is officially headed to Queens. Just as the Dodgers did last offseason, and in shockingly similar fashion, the Mets have acquired a career-prime, marketable superstar to underscore new owner Steve Cohen's stamp on the team (if that wasn't strong enough already).
Before we dig into the new King of New York himself – just how good of a trade did the Mets make as a whole? When Los Angeles acquired Mookie Betts last year, they only gave up good-not-great prospects, mostly because they were able to provide financial relief to the Red Sox, for both the impending Betts extension and for their other acquisition in the same deal – 3 years, $96 million worth of David Price. The Lindor deal followed a similar framework – the Mets took on the final year of the star's contract, gave up good-not-great prospects, and took on pitcher money. However, this pitcher might actually be a positive asset on his contract.
Carlos Carrasco has 3 years, $38 million left on his contract, with the 3rd year a vesting option that could potentially boil the remaining money down to 2 years, $27 million. That's a fraction of the massive contract the Dodgers took off of Boston's hands, and Carrasco is likely a better pitcher than Price in the first place. As a matter of fact, if the Mets in a hypothetical world signed Carrasco to that deal as a free agent right now, it'd be viewed as a really good one: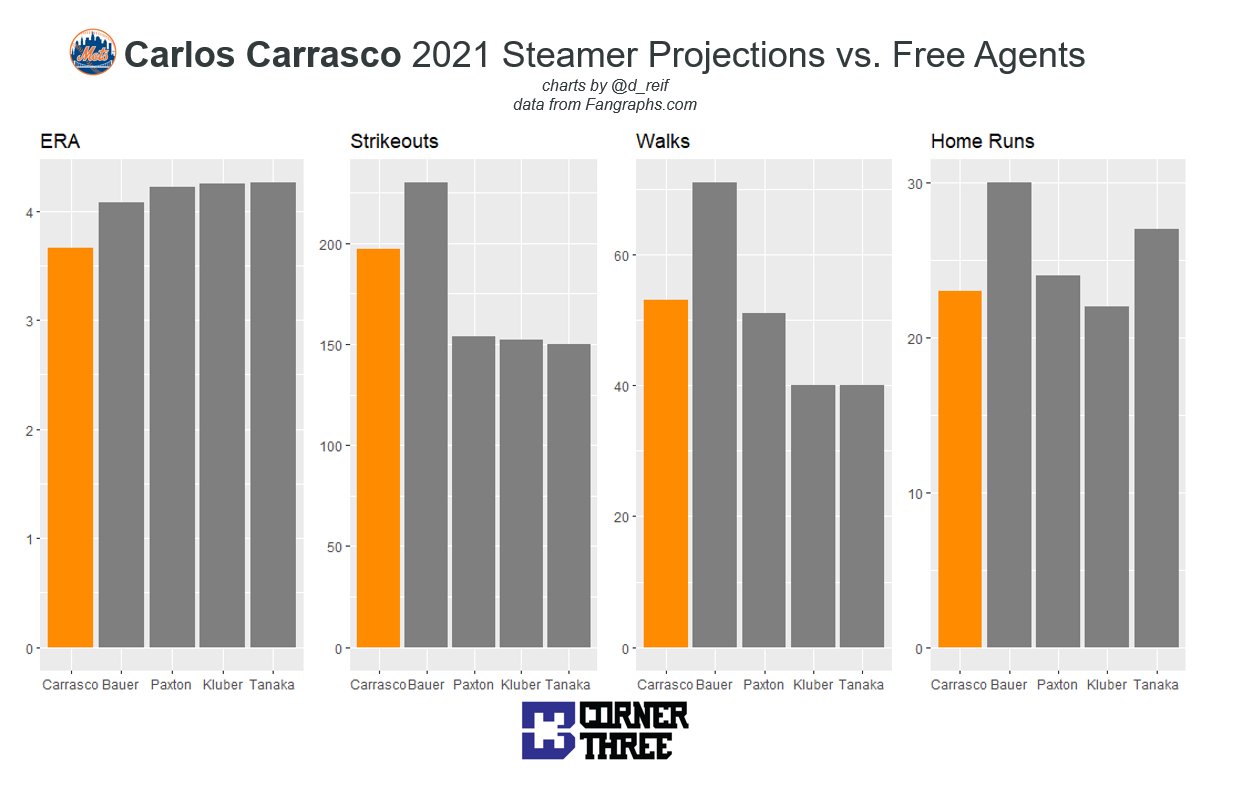 Per The Athletic's Eno Sarris, the trade vaulted the Mets from a decent 9th in Fangraphs' Wins Above Replacement projections to an eye-popping 3rd. The most amazing part is that they did it without giving up any top-7 prospects or top-7 WAR contributors to their 2020 roster – about as no-brainer of a deal as you can dream up, for both the short and long term.
WAR is a great tool for putting Lindor's greatness into perspective. As far as Mets shortstop stars go, it's easy to think back to José Reyes, who was worth a career-high 5.8 wins in his contract year just before he left the Mets for Miami. In Lindor's career year in 2018, he was worth 7.4 wins.
And despite a slight regression in the pandemic-shortened 2020 season, projections like that greatness to continue:
That's a bona-fide superstar. Shortstop is the most important defensive position in the infield, and maybe the whole diamond – so often teams stick defensive studs with less-than-stellar bats there to shore up run prevention. Lindor is the rare gem that can rake like a corner outfielder at the position – and even with that elite bat, he's debatably been a top-2 defensive shortstop since he entered the league:
That's incredibly valuable.
Even in a "down" shortened 2020, he was one of the better hitters in all of baseball regardless of position, and his Statcast peripherals reflect that:
Compare those ranks to those of maybe the Mets' best hitter last season in Michael Conforto. He had the best hitting season of his career, and his peripherals lagged compared to Lindor's "down" year:
Though a solid defender, Conforto was nowhere near as valuable on defense as a top-tier defensive shortstop. That's how valuable a 2-way star Lindor is.
Lindor also projects as a good fit offensively with the rest of the roster – their lineup is extremely lefty-heavy, with Conforto, Dominic Smith, Brandon Nimmo, and Jeff McNeil, some of the team's best bats, all standing on the same side of the plate. Lindor provides valuable switch hitting that will allow the Mets to both augment their assault against right-handed pitching and provide much-needed success against lefties.
Let's dig a bit deeper into his offense. Per The Athletic's Keith Law:
"Lindor's 2018 was his best year, and since then he's lost some of his discipline at the plate, chasing more breaking stuff at the edges of the zone and out of it, resulting in small hits to his walk and strikeout rates and OBPs well below his 2018 peak. There's nothing in his batted-ball data to say he can't hit as he did in 2018, and perhaps a new environment and better team will convince him to go back to his earlier, more patient approach."
Per Fangraphs data, the biggest concern was likely his hard-hit percentage, which clearly dipped from 2018/2019 levels in the shortened 2020 season. Interestingly, though, his soft-hit percentage also took a dip:
Count me among the people with little concern about the 2020 dip. Although he was chasing more pitches outside the zone, he wasn't far off from his general levels over the past couple of years, and improved back to stable levels as the shortened season progressed:
His ability to hit so many types of pitches well, while still maintaining an excellent walk rate (his BB% of 9.0 in 2020 was the second-highest of his career, and he's never posted an OBP below .335), is what makes him so deadly as an all-purpose hitter. He'll turn on inside fastballs as a lefty:
Or crush your hangers as a righty:
In his most recent full season in 2019, he slugged over 42.9% (league average across positions generally hovers around 42%) against each of the following pitches, per Statcast:
Splitter
Cutter
Curveball
Slider
Changeup
Sinker
4-seamer
If that list seems almost too comprehensive, it's because it is – as a matter of fact, it's every single pitch type tracked by Statcast.
It's important to once again keep in mind that Lindor has done this as an elite defender at maybe the most important position on the diamond. As touched on earlier, he ranks top-5 since entering the league in pretty much every advanced defensive metric available. He can single-handedly turn any up-the-middle defense elite:
Look at all the red! For comparison, here's the obviously notable Andrés Giménez – who was rightfully viewed as an excellent defender in his own right last season:
Although the Mets shifted Gimenez into many more spots, there wasn't nearly as much success (by Outs above Average), pretty much anywhere. As Lindor ages, hopefully through an extension with the Mets, his infield defense will likely begin to deteriorate, but the starting point is so elite that it's almost a non-concern at this point.
In all, the Mets did everything they should have with this trade – they took advantage of a down market by using their willingness to spend, and acquired both a legitimate prime superstar and a valuable rotation piece. They didn't give up a single major-league player who would have started on their new roster, and they didn't part with any highly-ranked prospects. Sandy Alderson, Jared Porter, and Steve Cohen should take a bow – and Mets fans should start to breathe it in. Francisco Lindor is a New York Met, and if all goes well, that won't change for a very long time.
by Derek Reifer, Northwestern University
follow Derek on Twitter @d_reif
follow Corner Three on Twitter @corner3sports
for more Corner Three Mets Tweets, follow @MetsAnalytics
follow Metsmerized on Twitter @Metsmerized