Welcome to the third of the Corner Three 2019-2020 NBA division-by-division season previews. In each of these previews, we use RJ Garcia's player-by-player ratings (based on on/off metrics and career trajectory) and per-game minutes projections (taking into account potential minutes lost to injury) to project overall team quality for the upcoming season. RJ and Derek Reifer also provide their own analyses and commentary to provide any context and additional insights.
Northwest Breakdown here.
Southwest Breakdown here.
We continue with the Southwest Division:
1. Los Angeles Lakers – 49 Wins (2018-2019: 37 wins)
| | | | |
| --- | --- | --- | --- |
| | Player | Minutes | Rating |
| PG | James, LeBron | 33 | 5 |
| SG | Green, Danny | 24 | 3 |
| SF | Caldwell-Pope, Kentavious | 23 | -0.5 |
| PF | Kuzma, Kyle | 29 | 0 |
| C | Davis, Anthony | 32 | 5.5 |
| 6 | Rondo, Rajon | 18 | -3 |
| 7 | Bradley, Avery | 17 | -3 |
| 8 | Dudley, Jared | 15 | -0.5 |
| 9 | McGee, JaVale | 14 | -1 |
| 10 | Howard, Dwight | 12 | -0.5 |
| 11 | Cook, Quinn | 10 | -4 |
| 12 | Caruso, Alex | 9 | 0 |
| 13 | Daniels, Troy | 3 | -2.5 |
| 14 | Norvell, Zach | 0 | -1 |
| 15 | Cousins, DeMarcus | 0 | 1.5 |
RJ's Big Picture: Remarkably, I believe that somehow the big picture is being missed in all of the mountains of Lakers coverage – an entire season of LeBron James and Anthony Davis pick and rolls. LeBron has led an extremely illustrious career, but never has he had a player so offensively talented around the rim as Davis. AD shot 71% at the rim per Cleaning the Glass in 2018-19, and that was while being the focal point for defenses to key in on. Now he is playing with LeBron James. There was much discussion over the offseason from players and sources around the league, such as Kevin Durant, about the effectiveness of more complex offenses in the postseason, and now the Lakers have as good a fail safe play as anyone in this spread pick and roll.
RJ's Big Question: What is the fate of Kyle Kuzma? Anthony Davis has been public over the years in his desire if given the choice to play the power forward position, especially on the defensive end. With LeBron playing the "point guard" role on offense, it is more than likely he wont be guarding point guards on defense, thus guarding a forward or a wing. So where does this leave Kyle Kuzma, who himself is probably best guarding power forwards? On top of these potential defensive issues, there is the question of how well Kuzma's skillset even fits with the current roster – does a team that is lead by LeBron and AD really need a scoring-focused forward in the starting lineup? Would Kuzma accept a bench role and be okay being the primary bench scorer for the team? After trading away the farm for what you build up the farm for, a generational player at 25 years old in AD, Kuzma is the last chicken in the hen house; the last young asset that the Lakers have to make some sort of in-season upgrade. Will they flip him to a team for immediate help, or will they figure out some way to integrate him?
Derek's Big Number: 45.5%. That's what Danny Green shot from 3 last season for the champion Toronto Raptors, and he did it on 5.4 attempts per game. While Kawhi Leonard went to the Clippers, the Lakers actually acquired the player that was shockingly worth more wins last season per Real Plus-Minus. Green's marksmanship plus his still-elite defense make him a huge pickup and the perfect complement to LeBron James… once again.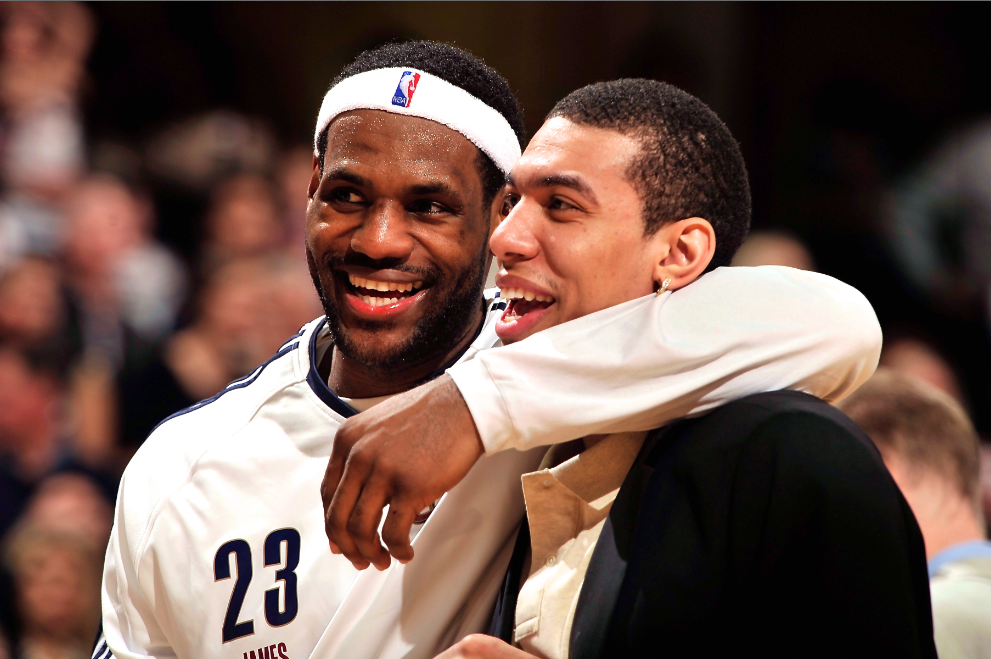 My issue is this – how will Frank Vogel and Jason Kidd use their guards? Green is a far better complementary player than both Avery Bradley (35% from 3 last season on 3.9 attempts) and Rajon Rondo (35.9% on 3.7 attempts). The minutes distribution for Bradley and Rondo, as well as more solid options in Kentavious Caldwell-Pope and Alex Caruso, will likely be enormous indicators of the quality of this team as the year goes on.
| | | | | |
| --- | --- | --- | --- | --- |
| 2018-2019 Player | ORPM | DRPM | Net Rtg | TS% |
| Danny Green | 2.66 | 2.07 | 13.4 | 63.2% |
| Rajon Rondo | -2.18 | -1.38 | -8.6 | 47.3% |
| Avery Bradley | -2.18 | -1.26 | -1.5 | 49.6% |
| Kentavious Caldwell-Pope | 1.40 | -2.17 | -3.7 | 56.8% |
| Alex Caruso | -0.71 | 0.77 | 3.2 | 56.9% |
Derek's Film Room:
It's one thing to be able to hit open threes and stay in front of a man on isolation. But what makes Danny Green so good (and is baked into his RPM numbers) is his instincts; the little things he's able to provide on the court. On offense, he's excellent at moving without the ball and finding the perfect spot to receive the dish. Watch how he moves to the elbow at first, then glides back to the corner:
Now imagine the penetrator is LeBron James instead of Marc Gasol.
Defensively, you can see the same thing. Watch him lose Devin Booker for a split second, but recover incredibly quickly, seamlessly dodging the screen and coming out of nowhere for the block:
Green is a forgotten cog that makes this Lakers squad the cream of the crop – assuming they utilize him.
---
2. Los Angeles Clippers – 46 Wins (2018-2019: 48 wins)
| | | | |
| --- | --- | --- | --- |
| | Player | Minutes | Rating |
| PG | Beverley, Patrick | 26 | 2 |
| SG | George, Paul | 27 | 6 |
| SF | Leonard, Kawhi | 25 | 4 |
| PF | Harkless, Maurice | 17 | 1 |
| C | Zubac, Ivica | 16 | 0.5 |
| 6 | Williams, Lou | 24 | -0.5 |
| 7 | Shamet, Landry | 24 | 0 |
| 8 | Harrell, Montrezl | 24 | 0.5 |
| 9 | Green, JaMychal | 16 | -2.5 |
| 10 | McGruder, Rodney | 12 | -2 |
| 11 | Robinson, Jerome | 12 | -1.5 |
| 12 | Patterson, Patrick | 12 | -2 |
| 13 | Mann, Terrace | 4 | -1.5 |
RJ's Big Picture: The Clippers were the big winners of the 2019 NBA offseason, finally shedding their little brother status and showing the rest of the NBA that they are able to compete and win in the free agent market. What does that get them in the modern version of the NBA? A pair of two year contracts for Kawhi Leonard and Paul George, where the team must hit the ground running or face losing both of these players in 2021. With that being said, this team should be very, very good. Frankly, this team just doesn't have many, if any, bad players in their rotation, something that is pretty underrated as an NBA asset, and most all of their rotation players outside of Kawhi and PG have a role player mentality that will help them focus in on whatever role Doc Rivers decides for them. The biggest potential issue for this team is probably interior defense, where Montrezl Harrell and Ivica Zubac have to step up and man the interior against potential playoff opponents such as Nikola Jokic, Anthony Davis, LeBron James, or even Rudy Gobert. But this is a team with a couple of remaining assets and a willingness to make a move to upgrade their center rotation if needed.
RJ's Big Question: How much will home court advantage matter? From the stated comments about load management from both the Clippers organization and Kawhi Leonard, and the news that Paul George will not play until November, it seems likely that both Paul George and Kawhi Leonard's minutes will be lower than some might expect. Additionally, with these low minute totals, the Clippers will more likely than not finish outside of the top spot of the Western Conference. So, will this matter? Generally speaking, home court matters to a point, but one interesting input here is that two of the major competitors for the Western Conference title, the Jazz and the Nuggets, both play at altitude and have home court advantages that are larger than the "standard" home court advantage. Will the Clippers care? Will it end up coming back to hurt them? We shall see.
Derek's Big Number: 60. That's how many games Kawhi Leonard played last season for the Raptors, and that was without suffering any real injury. Of course, once the playoffs rolled around, he was out there every game, and the rest of the team's built chemistry without him in the regular season may have even helped them in the playoffs. 
However, that situation was a bit different. Now, Paul George is a clear second star, with whom Leonard undoubtedly needs to build on-court chemistry for this year. George has his own games-played concerns, though; he was clearly not healthy in last year's first round series against the Blazers, and is already missing at least the start of this season.
The duo is so talented that when healthy, the Clips very likely are the best team in basketball, as they plan to be once playoff time rolls around. However, if they coast too much in the regular season, the West is looking like enough of a bloodbath that one or two road series in a row could really be a real concern, mo matter how good they are.
Derek's Film Room:
Paul George and Kawhi Leonard are, of course, the most important parts of this team. But perhaps just as big a reason for their presumed championship contention is their role players, as they have good NBA players scattered throughout their roster. One that stood out to me on film was Landry Shamet, who brings the an ability that any title team needs: three-point shot creation. Most people think of shot creation as dribbling and putting a move on an isolation and pulling up for a fadeaway, but it's more complicated than that. Players like Landry Shamet, who can speed around screens and knock down contested threes with a split-second release, are an enormous boon on any offense.
For one, Shamet will provide maybe the best floor spacer Paul George has played with in his career – last season, he had a higher three-point percentage at 42.2% than any of PG's qualifying teammates since 2011-2012, when he was just 21 years old. Coming from Westbrook-Roberson-Adams lineups into LA will open up his game a ton.
More importantly, though, if the offense is stagnant (especially in those games where one of the two stars is sitting), he's a guy you whose number you can call on an action to get an efficient shot. Watch how quickly things develop in the clip above. At 1 second in, he's still standing under the basket:
At 3 seconds, he has the ball in a shooter's position with a good look in the corner:
At 5? Splash; three points for LA.
---
3. Golden State Warriors – 46 Wins (2018-2019: 57 wins)
| | | | |
| --- | --- | --- | --- |
| | Player | Minutes | Rating |
| PG | Curry, Stephen | 30 | 7 |
| SG | Russell, D'Angelo | 30 | 1 |
| SF | McKinnie, Alfonzo | 21 | -3 |
| PF | Green, Draymond | 30 | 4 |
| C | Cauley-Stein, Willie | 27 | 1.5 |
| 6 | Looney, Kevon | 21 | 1.5 |
| 7 | Burks, Alec | 16 | -3 |
| 8 | Robinson III, Glenn | 15 | -2.5 |
| 9 | Evans, Jacob | 15 | -2.5 |
| 10 | Spellman, Omari | 14 | -2 |
| 11 | Thompson, Klay | 9 | 1 |
| 12 | Poole, Jordan | 7 | -2 |
| 13 | Paschall, Eric | 7 | -2.5 |
RJ's Big Picture: Kevin Durant is gone. Andre Iguodala is gone. What may have been the greatest team ever assembled is no more. What stands in its place is what might be the most shallow team in the Western Conference; a team that will be starting Alfonzo McKinnie (no offense, Alfonzo) at the same spot where Durant was a year ago. Not only is this team shallow, but the team that made the death lineup famous by playing small and blitzing opponents now has three of the best five healthy players as bigs, in the form of Draymond Green, Kevon Looney, and Willie Cauley-Stein. The days of Draymond at center are numbered for no other reason than the Warriors don't have enough quality wings and guards to be able to sacrifice not playing Looney or Cauley-Stein in crunch time.
RJ's Big Question: Does supernova Steph Curry still exist? Three years is a long time in this version of the NBA, and that is how long it has been since Steph Curry's unanimous MVP season where he put together one of the best offensive seasons in modern NBA history. This year, with less creation on this Warriors team, we will get to see if Steph still has that level of production in him, or even a slightly lesser version of what we saw in 2015-16. If Steph can get back to that level, this team is still a finals contender; if not they will be lucky to win 50 games.
Derek's Big Number: 786. That was the number of minutes that Stephen Curry and Draymond Green played together in this past postseason, the highest minute total for any of Golden State's two-man combinations. They had a combined +6.5 Net Rating (+14.3 in the regular season against lesser competition). The hope for this team is they still have two legitimate stars healthy, and everyone else just needs to fill in the cracks. I'd argue that Curry and Green have always been the two most important cogs for the Warriors through their run, and the ones that really helped this team "change the NBA": Curry of course with his unmatched three-point shooting, but also Green with his ability to guard 1-5 spawning the ability to run a "death lineup". With not-insignificant talent around these two, the Warriors should be better than many think during the regular season.
Derek's Film Room:
Here's an example of one of the millions of actions Steve Kerr can still employ this season without Kevin Durant or Klay Thompson. The supporting cast on this play was Shaun Livingston, Alfonzo McKinnie, and Kevon Looney.
The action begins with a double screen. Draymond screens Curry's man and essentially gives Curry multiple options. He can attack Draymond's man or take the Looney screen and attack his man:
Curry declines the second screen, and now has a few more options: pull up, penetrate, or pass back to Draymond who can playmake:
He chooses the latter, and immediately books it for the corner. Note how he subtly screens Rodney Hood with his own teammate here. Nice touch:
As the final dagger, McKinnie sets another screen on Hood in the corner, where Draymond has already delivered the perfectly-timed pass into the shooter's pocket. Once Curry can see the hoop,  it's too late:
Notice how there were so many options for Curry and Green at the beginning of this play. This is what makes the duo so difficult to defend – it's one thing to have a really good play, but another entirely when the players are so smart and talented that they can score on you no matter how you choose to defend the action, even if you know it's coming. This team should figure out a way to enough wins for playoff position, and if Klay is back healthy, they'll have as much of a shot at the championship as anyone.
---
4. Sacramento Kings – 37 Wins (2018-2019: 39 wins)
| | | | |
| --- | --- | --- | --- |
| | Player | Minutes | Rating |
| PG | Fox, De'Aaron | 30 | 2 |
| SG | Hield, Buddy | 30 | 0 |
| SF | Barnes, Harrison | 32 | -1 |
| PF | Bagley III, Marvin | 24 | -1 |
| C | Dedmon, DeWayne | 18 | 1 |
| 6 | Bogdanović, Bogdan | 24 | -0.5 |
| 7 | Joseph, Cory | 17 | 0 |
| 8 | Ariza, Trevor | 16 | -1 |
| 9 | Bjelica, Nemanja | 13 | 1 |
| 10 | Giles, Harry | 10 | -1.5 |
| 11 | Richaun Holmes | 10 | -0.5 |
| 12 | Ferrell, Yogi | 8 | -1 |
| 13 | Lydon, Tyler | 4 | -1.5 |
| 14 | Swanigan, Caleb | 2 | -2 |
RJ's Big Picture: It is rare to see a team that just had such an overachieving season with young talent turn around and hand out large contracts in the offseason to players that are in the later stage of their careers, yet this is what the Kings did this offseason, devoting over $45 million of their 2019-20 salary cap to Dewayne Dedmon, Trevor Ariza, and Harrison Barnes. With large salaries come minutes expectations, and additionally a drop in minutes for other players who played a large role in the success of this team from a year ago, such as Nemanja Bjelica. This team should still be sniffing around the playoffs, but something to watch here is how Luke Walton will manage the minutes and the team chemistry as this young team starts to have some expectations.
RJ's Big Question: Will De'Aaron Fox continue to get better? NBA fans, employees, etc. have the expectation that players at the young age of 21 will continue to get better in athletics, and the general aging curve would suggest this to usually be the case. However, the jump that De'Aaron Fox made from year 1 to year 2 was one of the largest jumps of any player in a decade. Fox's 2017-18 Real Plus-Minus was -4.27, and jumped all the way up to 1.82 RPM in 2018-19. This difference in RPM is the equivalent of replacing Goran Dragic with Steph Curry last year, a jump completely unheard of and way above expectations.
Fox's 2018-19 in a way was similar to Jayson Tatum's 2017-18 –  his production aligned with the best versions of what scouts and experts had projected their skill sets to be, and both capitalized with production at the far extreme of what was expected. Tatum, notably, instead of improving in his sophomore year, took a slight step back in both counting stats and on/off data. This isn't to say this should be the expectation for Fox, rather to consider that this has a higher probability than most are calculating into their expectations.
Derek's Big Number: 9.96. That's the difference in wins provided by De'Aaron Fox, per RPM, last season versus his rookie year (RJ and I didn't read each other's posts before writing ours; we promise). It was an unprecedented leap for a second-year player, who went from the 2nd-most detrimental point guard in all of basketball to higher than D'Angelo Russell, Patrick Beverley, and Jamal Murray. It would be crazy to expect huge growth like that again from Swipa – or would it? Last year, he attempted 20.1 field goals per 100 possessions, after attempting 19.9 his rookie year. There's definitely plenty of room to increase his role and usage at just 21 years old.
Derek's Film Room:
Man, De'Aaron is fun to watch, assuming you're not the opposing defense. Just look at how quickly this develops. He's got Marcus Smart on him, perhaps the best defensive guard in basketball. Willie Cauley-Stein sets a screen, and Smart fronts (Fox shot 37% on 232 three-point attempts last season):
Fox goes left, but watch the great action here from Sacramento, as the lane opens, Buddy Hield (guarded by Jaylen Brown) cuts to the top of the defense:
As Brown attempts to follow the elite shooter, Fox is gone in a flash, past Smart and multiple back-line defenders (good defenders, too) straight to the cup:
As Fox gets more and more comfortable with both his teammates and the game as a whole, he will continue to develop into one of the best two-way point guards in the league. It should be fun to watch in Sacramento this season!
---
5. Phoenix Suns – 34 Wins (2018-2019: 19 wins)
| | | | |
| --- | --- | --- | --- |
| | Player | Minutes | Rating |
| PG | Rubio, Ricky | 26 | 2 |
| SG | Booker, Devin | 29 | 0 |
| SF | Bridges, Mikal | 28 | 0 |
| PF | Šarić, Dario | 25 | -1 |
| C | Ayton, DeAndre | 29 | 0 |
| 6 | Oubre, Kelly | 26 | -1.5 |
| 7 | Johnson, Tyler | 20 | -1 |
| 8 | Baynes, Aron | 12 | 0 |
| 9 | Johnson, Cam | 12 | -1.5 |
| 10 | Diallo, Cheick | 10 | -1 |
| 11 | Kaminsky, Frank | 9 | -0.5 |
| 12 | Jerome, Ty | 9 | -1.5 |
| 13 | Carter, Jevon | 4 | -2 |
| 14 | Okobo, Elie | 2 | -3.5 |
RJ's Big Picture: The Suns, for the first time since Goran Dragic was traded to the Miami Heat, have a capable starting point guard in Ricky Rubio.  More than that, the Suns have more capable basketball players on their team this year in general – along with Rubio, the Suns picked up a pair of rotation bigs in the forms of Dario Saric and Aron Baynes. Depending on how Ty Jerome and Cam Johnson end up and also how many minutes they get, most everyone in the Suns rotation will be legitimate rotational players. If we see the Suns at the bottom of the draft lottery like in years past, that would represent a big failure compared to years past.
RJ's Big Question: What will the development of Devin Booker and DeAndre Ayton look like? With Rubio coming in and a full year of Tyler Johnson, the Suns should have a competent non-Booker playmaker on the court at all times this year. Booker's true shooting percentage has gone up pretty significantly in each of the last two years, jumping from 53% in his freshman and sophomore year, to 56% and 58% the last two years respectively. If Booker can start pushing 60% true shooting with better playmakers around him, he would be the legitimate offensive star that many fans already believe him to be.
Derek's Big Number: 113.3. That was DeAndre Ayton's Defensive Rating last season, a miserably high number for a center, which in my opinion is the most important defensive position in basketball. That number ranked 4th-worst among all NBA centers, worse than Enes Kanter, Jahlil Okafor, and other known non-defenders. Of course, Ayton was a rookie with plenty of room to improve, but that number was by far the worst among rookie centers as well.
It's clear Ayton has a chance to be a really special player offensively, but what are the chances his defense ever becomes average to above-average considering the start? It's hard to say, but think about the elite centers that aren't elite defenders – really only Nikola Jokic and Karl-Anthony Towns come to mind. Both have become very good three-point shooters to compensate in value, and were showing signs immediately, both attempting over 80 threes their rookie years. Ayton attempted just 4 shots from downtown last year, missing all 4. I don't want to write off such a talented player, and #1 overall pick, just yet, but he has a long way to go before living up to a franchise player billing.
Derek's Film Session:
Here's an example of a defensive miscue by Ayton that looks to be able to be coached or experienced away with time. Rudy Gobert, who isn't a threat to either shoot or drive, catches the ball close to the three-point line:
De'Anthony Melton switches, knowing that Gobert could really only be looking to pass from this spot, and therefore Ayton's size would be better served down low. He literally waves to Ayton to push backward:
Mikal Bridges makes the correct switch, leaving his respective non-shooter in Derrick Favors alone in the corner in favor of Joe Ingles. This would've been a great defensive play by Bridges if Ayton had shifted:
Favors easily beats him back door, and the Jazz have free points.
I know I'm harping on Ayton, but I pick this play because it wasn't really an issue with his lack of athleticism or instinct. It's the kind of play that can be taught; that he can improve on in the future. I still have high hopes for Ayton; hopes that the future of the Suns' franchise depends on.
follow Corner Three on Twitter
by RJ Garcia, Northwestern University
contributions by Derek Reifer, Northwestern University